Xbox Live Gold Members Play Every Game in EA Access Free (June 12-22)
Published: Tuesday, June 07, 2016Tagged: Gaming, Xbox Live, Xbox One,

Microsoft announced today that Xbox Live Gold members get to experience the EA Access Vault for free starting June 12 – 22. Play First, Play More, Pay Less. All with EA Access on Xbox One!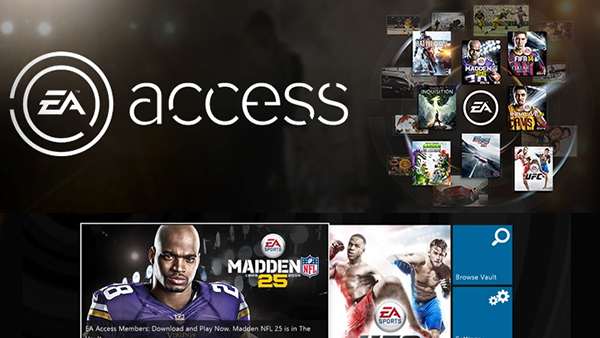 Xbox Live Gold members can get started by downloading the EA Access Hub App by clicking on the Gold Member area on the home dashboard. No credit card or sign up are needed, so don't miss out on your chance to play awesome EA games for free!
EA games in The Vault now include Battlefield Hardline, EA SPORTS UFC, Battlefield 4, FIFA 16, Dead Space, Madden NFL 16, Dragon Age: Inquisition, Rory McIlroy PGA TOUR, NHL15, Titanfall, Plants vs. Zombies Garden Warfare, Need for Speed Rivals, NBA LIVE 15, Peggle 2, FIFA 14, and Madden NFL 14.
After EA Access Free Play Days, you'll have the option to become an EA Access member for $4.99 (USD) per month, or $29.99 (USD) for a full year, and can continue playing your favorite Vault games right where you left off. You'll also get to keep your Gamerscore and achievements earned while playing.
With EA Access, members can play new EA titles before they are released for a limited time and save 10% on all EA digital purchases on Xbox One. You'll be among the first to download and explore Battlefield 1, FIFA 17, Madden NFL 17, Mass Effect: Andromeda and other new EA games. Since you're playing the real game and not a demo, your saved progress will carry over if you decide to buy the full game once it's released.
Learn more about EA Access Free Play Days or get the full details on EA Access, and enjoy some great gaming next week!
Get 12 months of Xbox Live Gold from Amazon – on sale now
Xbox Games Database: here
This year is shaping up to be one of the biggest years for gaming in recent memory. With dozens of great games on the way, there is a lot to look forward to. The wait for...

Player Unknown's Battlegrounds is one of the most complicated battle royal games on the market. Every player should invest a lot of their time in learning, strategizing...

School and university assignments can stress you up especially when there are deadlines to meet. Each assignment requires you to do research, write, edit and proofread before...
Average Score: 4.85





Votes: 7