XCM Black Knight LED Case Mod Reviewed for the Xbox One
Published: Monday, January 08, 2018Tagged: Xbox Accessories, Gaming, Xbox Hardware, Xbox One,

The lovely people over at XCM sent us a XCM Black Knight upper LED Case to review. This fancy Xbox One case only works with the original Xbox One and not the Xbox One S or X models.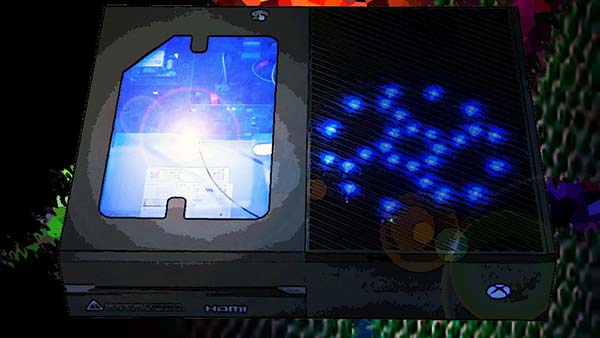 When I received my XCM Black Knight Xbox One Case it was well packaged and the instructions to install this comes in multiple languages and in color which is a plus, also they have a video on there product page for this how to install it very easy to do.

I give it difficulty of out of 10 a 1 for easy install as it comes with instructions in color easy to read and also a video online on there product page to help people I did not need this as I have taken Xbox One's apart to fix them but used a couple of the images to see how the speaker and Wi-Fi mount other then this amazing it comes with all the tools needed to get the job done no need to buy anything extra.
Turned the console on afterwards and the LEDS are nice and bright I love the options to choose the colors with a press of the finger and the different effects like fast fade and slow fade and the must option to be able to turn it off just by holding the button for a few seconds. My kids love the colors and the new look my friends and family are like wow did not know you can do this stuff to a console really cool. It slick and easy to install which will work for a lot of you guys out there looking to spice up that console and not wanting to have to drop a lot of money into getting the tools to do the cutting and soldering etc.. Simple and Amazing product, by a well known manufacture in the console game keep on doing amazing things XCM love it.
Drawbacks/Cons:
I have none as of yet this mod is easy to install they give you a amazing directions on paper and also on the product page and all the tools to put it together.
Check out the XCM Black Knight Case Mod for the Xbox One In Action!
XCM has been making great products over the years from the original Xbox and many other consoles. Check out their website and see what they have to offer in the future for the Xbox community. The Black Knight Case is a nice feature for anyone looking to mod their original case, give it some color and a clean look without having to hack up the original, this is amazing product XCM has made.
For a long time, the GTA online casino has made us believe that it is impossible to earn a hefty amount of money in one single day. Luckily, the GTA online wheel glitch seems...

Whether you're a fan of adventure and action games, or you prefer role-play, simulation, sport or strategy games, Xbox offers something to suit many consumers. Yet, with the...

In August 2020, Microsoft announced that they had "no plans" to discontinue their long-standing Xbox Live Gold service, as per IGN. Such speculation emerged after the...
Average Score: 4.62





Votes: 8