Microsoft Announces Combat Tech Special Edition Xbox Wireless Controllers
Published: Thursday, March 01, 2018Tagged: Xbox Accessories,

Bree White, Global Product Marketing Manager on the Xbox Team, shares details about the new Combat Tech Special Edition controller releasing later this month.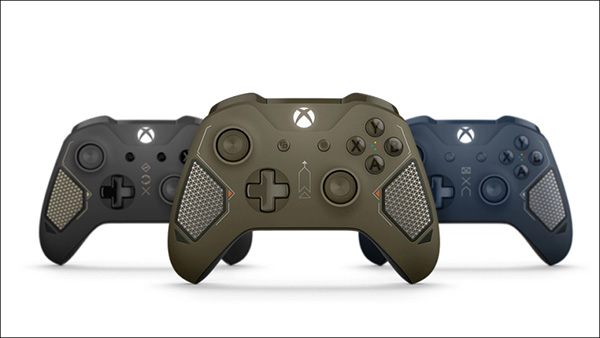 Last spring, we debuted the Xbox Wireless Controller Tech Series – a line of special edition controllers inspired by military technology and performance patterns found in combat vehicles. Today, we're excited to announce the third controller in the Tech Series, the Xbox Wireless Controller – Combat Tech Special Edition.
Pre-Order Xbox Wireless Controller – Combat Tech Special Edition from Microsoft Store
The Xbox Wireless Controller – Combat Tech Special Edition embodies a traditional army color palette with its classic Military Green base color (the same Military Green offered through Xbox Design Lab), bright orange accents and military insignia. Like the Recon Tech and Patrol Tech controllers that came before it, the Combat Tech controller features a textured laser-etched grip on the front of the controller and rubberized diamond grips on the back to help you stay on target. In select regions, you'll get 14-day trials for Xbox Live Gold and Xbox Game Pass. The Xbox Wireless Controller – Combat Tech Special Edition will be available for $69.99 USD and will start shipping to participating retailers worldwide, including Microsoft Store, on March 27.
The first of the controller in the Tech Series, Xbox Wireless Controller – Recon Tech Special Edition, launched last spring and comes in a sleek, dark grey military design. The second controller in the series is the Xbox Wireless Controller – Patrol Tech Special Edition that launched in the fall. It features a dark blue military design. Both controllers are available for $69.99 USD at select retailers worldwide including micrsoftstore.com.
All Xbox Wireless Controllers are compatible with the Xbox One family of devices and the Tech series controllers include the fan favorite features you know and love, a 3.5mm headphone jack and Bluetooth technology for gaming on Windows 10 devices or Samsung Gear VR. You can also take advantage of the custom button-mapping feature through the Xbox Accessories App.
Visit xbox.com, microsoftstore.com, or your local retailer for more information.
'Back 4 Blood' is a first-person co-op survival game that is being created by Turtle Rock and is scheduled to be released in June 2021 barring any setbacks. The game has...

This year is shaping up to be one of the biggest years for gaming in recent memory. With dozens of great games on the way, there is a lot to look forward to. The wait for...

Player Unknown's Battlegrounds is one of the most complicated battle royal games on the market. Every player should invest a lot of their time in learning, strategizing...
Average Score: 4.66





Votes: 6