Battlezone Gold Edition Brings Glorious Tank Warfare To Xbox One, PS4 & PC On May 1st
Published: Friday, April 20, 2018Tagged: Gaming, Pre-order, Xbox One, Xbox Store,

Acclaimed VR tank shooter BATTLEZONE will blast into new territory very soon! Indepndent UK developer and publisher Rebellion is thrilled to announce that BATTLEZONE GOLD EDITION will launch May 1 on Xbox One, PlayStation 4 and PC. And it will be fully playable with or without a VR headset!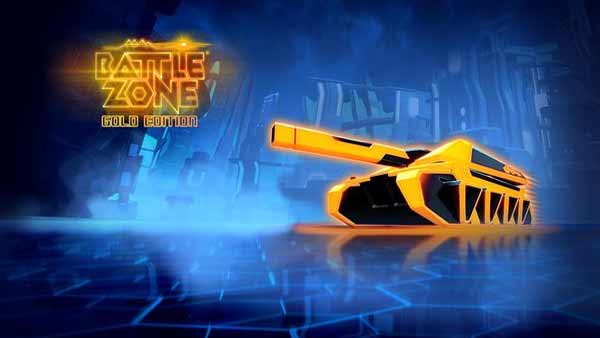 Originally released as a PlayStation VR launch title and later for Oculus Rift and HTC Vive, BATTLEZONE offers hours of exhilarating, futuristic tank warfare in a stunning first-person view. Delivering a procedurally generated campaign for 1-4 players ensuring no two playthroughs are the same, and drop-in, drop-out online co-op play, BATTLEZONE brings back one of gaming's icons like never before.
BATTLEZONE GOLD EDITION includes the game and ALL the additional content ever released for it. That's all the tank skins, bobbleheads, and horns, as well as the fantastic Classic Mode based on the original's iconic 80s arcade cabinet.
And anyone who already owns BATTLEZONE on PS4 or PC will automatically upgrade to BATTLEZONE GOLD EDITION. That means they'll receive all the extra content and be able to play without a VR headset, all FREE!
'BATTLEZONE GOLD EDITION' will be available starting May 1 on Xbox One, PS4 and PC at a great value-for-money price of £29.99. BATTLEZONE GOLD EDITION debuts on Nintendo Switch this summer!
Xbox One Games: Battlezone Gold Edition
Battlezone Gold Edition Achievements
Most Recent Trailers for Battlezone Gold Edition
Latest Battlezone Gold Edition News & Rumors
'Battlezone Gold Edition' is now available for digital download on Xbox One, PS4 and PC.Strap into the cockpit of the Cobra tank and experience mind-blowing first-person tank...