XCM MaxColor Dream Stick Controller Mod Kit For Xbox One and PS4
Published: Friday, October 19, 2018Tagged: Xbox Accessories, Gaming, Xbox Hardware,

The guys over at XCM sent over MaxColor Dream Stick V5 for PS4 Pro/Slim controllers to check out. MaxColor Dream Stick is available now on Xbox One and PS4.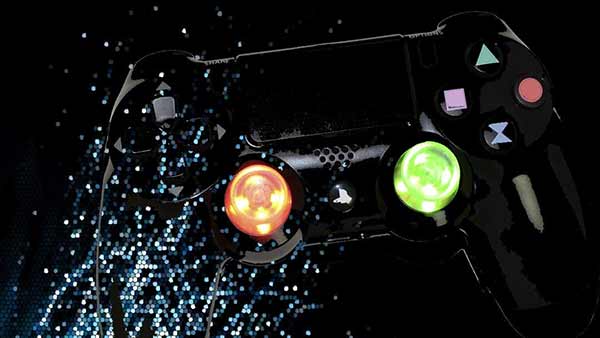 Bored with your dull or worn away thumb sticks? How about replacing them with XCM's Maxcolor Dream stick? Fully designed for your needs in clear, switchable multi colors. Wait for the color to appear and pause it to the color you like, you are able to change any time anywhere to your favorite color. There have 7 main colors on each stick. You are able to adjust the color tone, dim to bright, more than hundreds of color combination on the two thumb sticks, set different colors on each stick, to out stand your friends controller! Additional rapid fire function built in, get more fun, get more joy!

I'm the type of gamer that loves all systems and this little kit was a nice feature to add to my gaming collection. Installation was really easy. There were not many soldering points that where needed (about 12 to do the install) so it should be simple for those people that have no experience in soldering. I would rate this install a 4 out of 10 for difficulty for a beginner and a 1 out of 10 for a pro.
The mods functions are very easy to use and remember for setting up the led colors for each controller and also setting up rapid fire or macros. You are able to adjust the color tone, from dim to bright, more than hundreds of color combination on the two thumb sticks for you to choose from! Set different colors on each stick, Surprise your friends with your stunning thumb sticks!
The instructions are well detailed and provide screenshots to help anyone out with installing it. XCM also provide videos and instructions online here. This mod is a great addition for anyone who loves to customize their controllers and having the added feature of rapid fire and the ease of use is just a amazing product all around for anyone. If you don't already own a PS4 Slim or Pro controller, no worries XCM has got you're back. They have other versions available for other models as of now there are 4 versions. Check out here. Amazing Price at only $28.00 for a led thumb mod and rapid fire really good bang for your buck here guys. XCM also make a similar kit for the Xbox One. You can learn more about the Xbox One mod kit here.
Product Features
Built-in LED on 2 thumbsticks, changeable to any color.
7 main colors on each thumbstick to choose from.
Independent color on each stick.
Adjustable color tone, dark to light, a large variety of color tones to select.
Rapid fire function built in.
Multi-color combination between 2 sticks to choose from.
Marco Programming
With this Marco programming, you are able to program special modes like: auto jump shot, sniper breath, dash mode etc for FPS/Fighting/Action games. Regarding to different FPS/Fighting/Action games with different setting, you are able to program without waiting for the new marco program from the PC.
Official Site: https://xcm.cc
For years, FIFA has been criticized for ignoring its career mode. Yes, there are plenty of FIFA players young and old that prefer not to play against others online and would...

Publisher Untold Tales alongside developer Demagog Studi announced today that Golf Club: Wasteland, a brand new puzzle platformer set on a post-apocalypse Earth-turned golf...

INDIE Live Expo, the digital showcase connecting indie game fans worldwide with more than 18 million total views to date, will show off more than 300 upcoming indie games...
Average Score: 4.2




Votes: 5