GAEMS Unleashes Guardian Pro XP, the Ultimate Personal Gaming Environment
Published: Friday, January 04, 2019Tagged: Gaming, Xbox Accessories, Xbox One, Xbox One X,

GAEMS today announced the all-new Guardian Pro XP, the premier Portable Gaming Environment for pro gamers, serious gamers and content creators delivering the ultimate in performance and portability for console AND for PC with a 24" QHD IPS panel.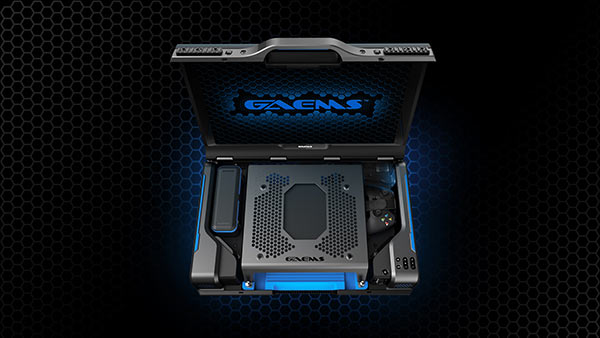 The only professional grade Personal Gaming Environment for console and PC gamers, Guardian delivers GAEMS' legendary portability and protection for Xbox One, PlayStation 4 consoles, as well as support for several micro ATX PCs, built into a TSA-friendly hard-shelled case fitting most carry-on luggage requirements.
"Gaming has changed radically since we launched our first Portable Gaming Environments in 2011," says John Smith, co-founder of GAEMS. "Today's gamers are also savvy professionals. Whether they compete in esports or generate unique gaming content, these professionals will appreciate how GAEMS integrated the highest-level performance gaming monitor and media tool suite into a single ultra-sleek yet portable package with Guardian."
Expand your gaming reach without compromise. Guardian features an ultra-low latency 24" Quad-HD anti-glare IPS gaming monitor with HDR support and FreeSync technology for total immersion. The proprietary GAEMS Dynamic SoundStage™ surrounds you with rich sound created by a 12W integrated power amp powering 9W chambered, stereo speakers and passive subwoofers, or game to yourself using the 3.5mm audio jack. Charge your controllers, phones and other devices conveniently through the Guardian Media Center. Mount your streaming camera, custom microphone or lighting solution to the patented Picatinny Rail of your open Guardian and look sharp for the content you create! Capture your game stream via the integrated HDMI output and see why splitters are yesterday's news.
Key specs for Guardian Pro XP include:
Patented industrial-grade hard-shell case with proprietary metal-hinged design
24" Quad HD IPS panel
Proprietary Dynamic SoundStage™ with 12W power amp, chambered 9W speakers, passive subwoofers and Surround Processor
Integrated Media Center with HDMI 1.4 Input, 3.5 Headphone Jack, High Speed USB Hub Port (from console power) to 3x USB Ports (1x USB 3.0@1.8A & 2x USB 3.0@0.9A) duplicating console functions and providing passive power for charging while Guardian is Off
External rear HDMI Output for streaming and sharing monitor content
Patented Picatinny Rail mounting system for cameras, microphones, lighting and other equipment used for professional streaming (accessories sold separately)
HDMI 1.4 cable
AC 100v-240v/DC, 19V, 4.74 Amp Power adapter
Product Dimensions (inches) – 23.45" w x 16.9" d x 4.79" h
Compatibility: Xbox One S, Xbox One X, PlayStation 4 Pro, PlayStation 4, PlayStation 4 Slim & fits some Micro ATX PC hardware
Guardian Pro XP is expected to be available in Spring/Summer 2019. For more information, stay tuned to XONEHQ on Twitter, Google+, Facebook and YouTube for the latest Xbox news & rumors, upcoming Xbox Games, Xbox Release Dates Schedule and more.
Official Site: https://gaemspge.com/
On Tuesday, March 19 between 7:00AM UTC and 9:00AM UTC (3:00AM ET and 5:00AM ET / 12:00AM PT and 2:00AM PT), Microsoft will be performing scheduled maintenance that will...

Microsoft just announced that they will be performing scheduled Xbox Live maintenance that will effect Xbox 360 titles and services this week.On Tuesday, February 19 between...

XBOXONE-HQ (@XONEHQ) branded t-shirts, hoodies, sweaters and socks now shipping and available worldwide.Whether you're looking for t-shirts, hoodies, sweaters or socks, the...
Average Score: 4.63





Votes: 11