Buddah Tek's Rover 1 Personal Gaming Station Merges Portability and Style
Published: Wednesday, May 15, 2019Tagged: Gaming, Pre-order, Xbox Accessories, Xbox Hardware, Xbox One, Xbox One X,

Buddah Tek today unveiled its flagship solution for high-end luxury gaming on the go, the Rover 1 personal gaming station and the R1 messenger bag.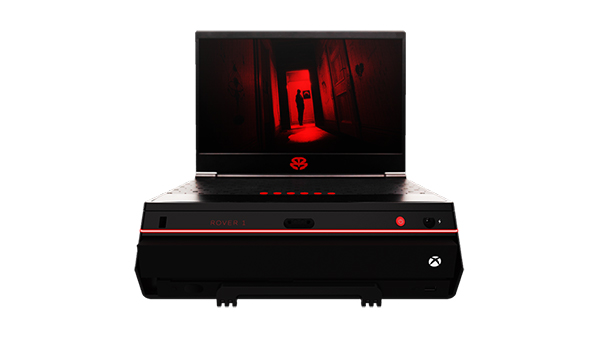 Designed by noted entertainment, fashion and tech entrepreneur Venus Brown, the Rover 1 features an ultra-luxurious monogramed design that lets you take your console gaming experience wherever you go, while the eye-catching R1 messenger bag features the quality of European luxury houses while offering unparalleled convenience and protection for your Rover 1.

"Every day in the course of my work with musicians, sports stars, and culture icons, I see people playing games, whether it's backstage, in the locker room, or in the studio," says Buddah Tek founder Venus Brown. "But until now there hasn't been a portable console gaming solution that you can play on an airplane or anywhere for that matter for people who like to express themselves though style and fashion. The Buddah Tek products change all that."
The Rover 1's sleek, monogrammed exterior will turn heads while the patented, TSA-approved, high-impact chassis is uniquely designed to accommodate an Xbox One S, Xbox One X, PS4 Slim or PS4 Pro. A truly single-outlet solution, the Rover 1 is powered directly by the console via the included Dual USB to 5V DC cable, making it perfect for the airplane, locker room, college dorm, tour bus, on deployment, or backseat on a family road trip. A pop-up built-in 13.3" 1080P FHD Anti-Glare monitor provides stunning visuals on the go, while the HDMI-Out lets you keep your console unit inside and simply hook it to an external TV when not on the go. The Rover 1 features built-in 3 watt cylinder subwoofer dynamic sound speakers and dual 3.5mm headphone jacks with Bluetooth 4.2 so you can stream your own music through the speakers or headphones while playing.
The R1 messenger bag presents a new standard for luxury gaming travel. The high-end bag was designed especially with gamers in mind with enough space to carry your Rover 1 or any game console or laptop, along with its controllers and accessories, without sacrificing protection, quality or style. The main compartment features a Velcro closure, and dual controller straps fit all PlayStation and Xbox types. Cables and accessories fit easily in a separate compartment. The exterior features a hidden waterproof zipper design for weather resistance, reinforced double stitching for durability, a comfortably padded and adjustable shoulder strap, and a luggage trolley strap with a convenient exterior passport pocket.

The Rover 1 and R1 will debut on June 11 for $299 and $149, respectively, or save by purchasing both as a bundle for $399. Preorder now from Gamestop or Amazon.
Planet Zoo takes players on an exciting African adventure today with the launch of its latest expansion on Steam for PC! Inspired by Africa's diverse cultures and rich...

The world of esports has been growing exponentially over the years, with more and more players, teams and games being added almost on a monthly basis. Considering the...

Gunzilla Games has welcomed Neill Blomkamp, an Oscar-nominated screenwriter, director and producer of numerous critically acclaimed movie productions, including the science...
Average Score: 4.25




Votes: 4