Venom Announces New Vertical Charging Stand for Use with Xbox One S and Xbox One X, Stores and Charg
Published: Tuesday, June 18, 2019Tagged: Gaming, Xbox Accessories, Xbox Hardware, Xbox One, Xbox One X,

Venom, a leading UK provider of quality gaming accessories, announced today the shipping of the Vertical Charging Stand in white, a multi-functional accessory designed for use with Xbox One S and Xbox One X consoles, available across Europe starting today.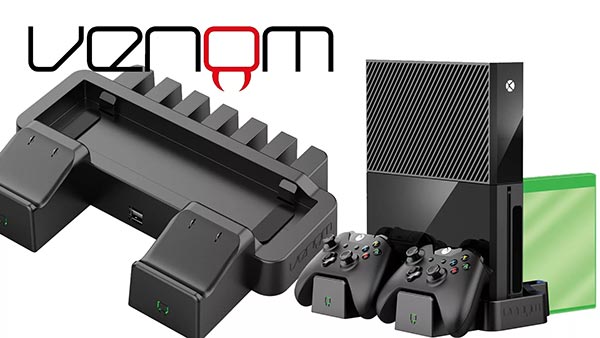 Perfectly complementing the Xbox One S's glacier white hardware, the Vertical Charging Stand features an understated design which neatly secures the gamers' console in an upright position, saving space and protecting against damage. In addition, the Vertical Charging Stand comes complete with two high-quality rechargeable Battery Packs, which blend seamlessly with both regular and Elite controllers and provide up to 18 hours of gameplay combined.
When finished gaming, gamers simply slot their controllers into the dock on the stand, and the rechargeable Battery Packs automatically charge, even when the console is in standby. Should gamers wish to charge or power up additional devices, two Micro USB ports are also provided.
The all-in-one accessory from Venom even includes discrete storage for up to six Xbox games, ideal for keeping order of the gamers' entire eco-system of hardware and software.
Kelly Rist, Marketing Manager for Venom, commented, "Venom are always looking for new ways to simplify and add value to gamers' setups, and the Vertical Charging Stand is the ideal example of convenience and value. Keeping console, controllers and software neatly arranged reduces clutter and ensures that replacement batteries are a thing of the part, good for wallets and for the environment. We think Xbox gamers will be impressed with the value on offer."
The Vertical Charging Stand retails for an SRP of £29.99 and is available at Amazon.co.uk alongside all leading gaming retailers.
Official Site: https://venomuk.com/get/vertical-charging-stand-2/
Latest News & Rumors
Aksys Games announced today that Tin & Kuna will be rolling onto the Xbox One, PlayStation 4, Nintendo Switch and PC this fall. Help Kuna save his buddy Tin and rebuild...

We're only a little over a week away from the much anticipated release of the Final Fantasy VII remake - the game did its part in redefining modern JRPG games and has in...

The video game industry is incredibly popular, with millions of people playing their favorite games on Xbox every day. Even if they aren't playing themselves, they are...
Rate This Article
Average Score: 4.5





Votes: 2