WARFRAME: New 'Saint Of Altra' Update Arrives Today on Xbox One, PlayStation 4 and Nintendo Switch
Published: Tuesday, September 17, 2019Tagged: Free, Gaming, ID@Xbox, Xbox DLC, Xbox Live, Xbox One, Xbox Store,

The free Saint of Altra update for Warframe is now available on Xbox One, PlayStation 4 and Nintendo Switch, giving console players a wild ride filled with speed, music, and disruption. Download Warframe's new update on all platforms for free today.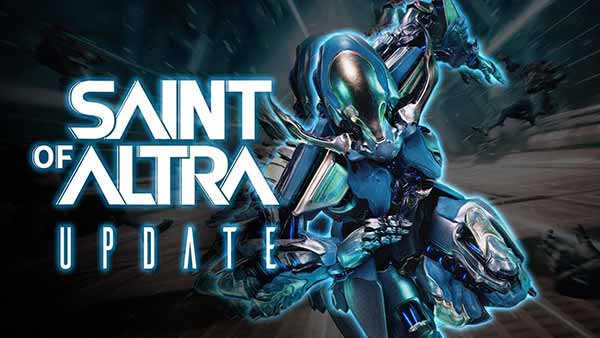 Players on Xbox One, PlayStation 4, and Nintendo Switch can now unharness the power and speed of its new Warframe, Gauss. The fleet-footed new Warframe blindsides the toughest of enemies by generating kinetic energy to wield powerful moves and Abilities. Players with a musical bent can create, record, play and share the enticing Shawzin Emote and become the Origin's Systems most renowned bard! And the popular, endless Disruption Mode, introduced in The Jovian Concord, has expanded to new planets, mission types, and factions to challenge players across the Origin System. Get the new Saint of Altra update today for free.
The Saint of Altra update features a brand new way to enjoy Warframe now that one of the community's favorite emotes has become a playable instrument. The guitar-like Shawzin instrument (available in the Marketplace) offers Tenno the ability to create their own songs (or re-create their favorite ones), record, play and share them with other players. Strum us a song, Tenno!
And for players who want a genuinely tough challenge, Disruption Mode has expanded. As a result of the corrupt Alad V's sale of black market technology across the Origin System, the popular Disruption Mode has spread across the Origin system. The stakes have been raised in the expanded mode newly outfitted with some of the toughest enemies and coolest rewards!
Lets take a look at the official Warframe Saint of Altra Trailer:
Shift into overdrive as Gauss and face some of the toughest enemies in the Origin System with six new Disruption Mode missions; let the Void consume you with the Harrow Reliquary Collection; show off your shredding skills with a playable Shawzin and so much more!
Additional new features in today's update include:
With the new Look Link and Mod Link chat features, players can generate a link to their chosen Warframe design or Mod Loadout and post it to share in chat, or import a shared design and loadout from a fellow Tenno with a simple click - radically simplifying and speeding up the ability to expand one's Warframe "wardrobe."

Available for purchase in the Marketplace, the Harrow Deluxe Collection features a new Deluxe Skin, a matching Armor Set and Weapon Deluxe Skin for Spearguns.

Infested Dojo Decoration Set: Decorate your clan Dojo with an aesthetic inspired by the Infection faction.

Riven Slot Increase: Expand your arsenal of Riven Mods - players can now increase their collection of Riven Mods from 90 to 120.
Download Warframe's new update on all platforms today.
Official Site: https://www.warframe.com
Most Recent Trailers for Warframe
Latest Warframe News & Rumors
Looking for something to play for free on Xbox One? We've got you covered with some of the best new free Xbox games of 2019. Check out the best new and upcoming Xbox One...

Razer (@Razer) introduced a new way to play on console today with the Razer Turret for Xbox One, a wireless keyboard and mouse combo designed for Xbox One. For a limited...

The November 2018 Xbox Update is now rolling out worldwide for all Xbox Users. November's update adds Xbox One Mouse and Keyboard Support, Xbox Skill for Cortana & Alexa...
Rate This Article
Average Score: 4.5





Votes: 2