Top-down action adventure game 'Rack N Ruin' launches for Xbox on January 29th; Pre-order now!
Published: Tuesday, January 26, 2021Tagged: Gaming, ID@Xbox, Pre-order, Xbox Live, Xbox One, Xbox One X, Xbox Series X|S, Xbox Store

Top-down action adventure game 'Rack N Ruin' is now available to pre-order digitally on Xbox One & Series S|X, ahead of its official release next Friday.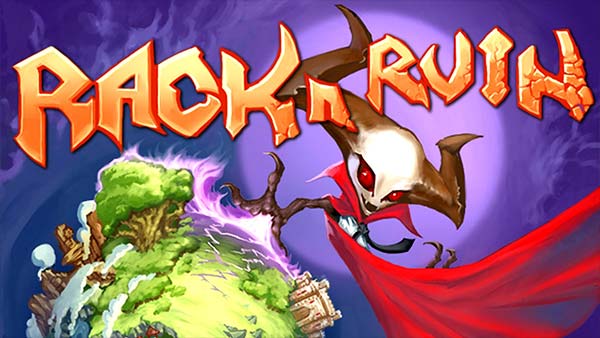 Rack N Ruin is a fusion of an action rpg and a bullet hell shooter. Starring Rack, a demonic wizard with an appetite for destruction. Join Rack on an epic adventure across a world filled with magic and wonder. Then watch in astonishment as Rack befouls, corrupts, slaughters, and brings about a general air of misfortune to everything and everyone he confronts. Chaos reigns in this top-down action adventure rpg that's infused with the intensity of a classic shoot 'em up.
Rack N Ruin features include:
Burn through hordes of foes with 4 core elemental weapons.
Unleash death with an array of 24 spells, items, and contraptions.
Interactive items that allow the player to create unique item interactions based on the elemental weapon type.
Weave through complex bullet patterns while smiting titanic bosses and over 30 unique enemies.
Explore an enchanted benevolent world, and then transform it into a nightmarish image of its former self.
Ransack castles, pillage dungeons, escape prisons, navigate gloomy caves, and awaken ancient evils.
Meet a charming cast of townsfolk and collect their souls.
Unravel devious puzzles and scour the land for over 100 secrets.
And, of course, destroy the world.
Rack N Ruin is available for digital pre-order and pre-download on the Microsoft Store today, and is scheduled to launch for Xbox One and Xbox Series X, and Series S on January 28, 2021. Pre-order now and get 20% off for a limited time!
Microsoft Store: here
Price: $29.99, €12.99, AU$19.45