Bonkies Review for Xbox One
Published: Wednesday, March 03, 2021Tagged: Gaming, ID@Xbox, Xbox Live, Xbox One, Xbox One X, Xbox Series X|S, Xbox Store

Gather your prime mates, equip your banana-fuelled jetpack and robo-arm, and read through our review for "Bonkies" - out now on Xbox One and Xbox Series X/S.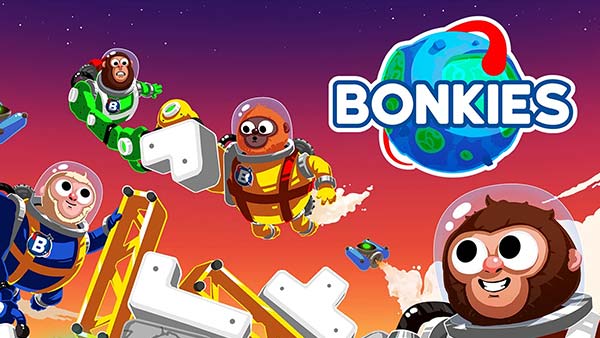 Bonkies is a 4 player co-op party game where you play as a space monkey and raise whacky buildings all over the cosmos for the glory of apekind. Best enjoyed at a party or with friends, every monkey in the game has there own robotic arm which you must use to help complete levels by moving blocks around the map on your screen.
Teamwork is important to beat each level. For example if there is a heavy block, multiple monkeys will need to use there robotic arm to help move it to the correct position. Communication with your teammates in Bonkies is absolutely vital and is mainly targeted towards gamers who know how to use their controllers as you'll be using all of them. Once you get on to some of the higher levels in the game, players equip their bananas jetpacks and robo-arm, and continue building all over the cosmos.
If you're good with communication and have multiple people to play with "Bonkies" is the perfect game for you. You'll have a blast playing this super fun Party game.
Developed by Studio Gauntlet and published by Crunching Koalas, Bonkies is available now on Xbox One and Xbox Series X/S. Pick it up today!
Microsoft Store: here
Price: $14.99, €14.99, AU$21.95
Latest Bonkies News & Rumors
The beloved apestronauts of the community spoke, and the developers listened. Bonkies - the wholesome couch co-op, perfect for spending quality time with loved ones, is...

Bonkies, a jolly, couch co-op party game with a pinch of construction building is available for Xbox One, Nintendo Switch and PC (via Steam and GOG) players!Bonkies is a...

Crunching Koalas and Studio Gauntlet have announced that Bonkies, a jolly party game about cooperation, space construction and the joys of colonising the solar system as a...
Rate This Article
Average Score: 3.75




Votes: 4