Awe Interactive's PC Hit BPM: Bullets Per Minute confirmed for Xbox and PlayStation
Published: Monday, May 03, 2021Tagged: Gaming, ID@Xbox, Windows, Xbox Live, Xbox One, Xbox One X, Xbox Series X|S, Xbox Store

Playtonic Friends officially revealed that the next title to join it's stable will be the console version of fast and frenetic rhythm-based shooter BPM: Bullets Per Minute. Check out the official console trailer!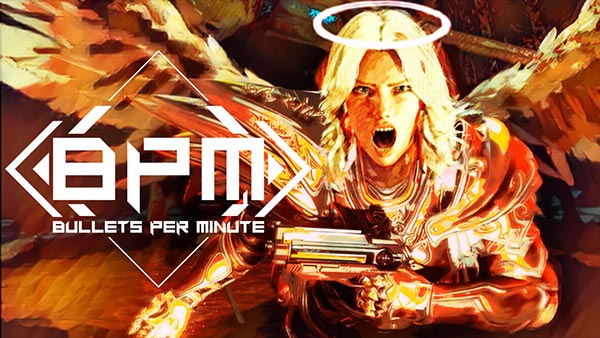 BPM: Bullets Per Minute brings dungeon-based shooter action to the table, but encases it in a world where every single move - every shot, every jump, and every dodge - is pulled off to the beat of an epic rock soundtrack.
The game hit PC back in September 2020 and won praise from critics and plaudits from gamers, with Screen Rant describing it as "engaging and addictive enough to make most titles out right now blush". With BPM set to take to the stage on PlayStation 4 and Xbox One this summer, the studio decided its performance on console needed to come with some extra backing singers - albeit only figuratively. Anyone expecting members of the Playtonic team to take to the stage for their X Factor moment will sadly be severely disappointed.
"When BPM: Bullets Per Minute hit PC, the response we got blew us away, and we were aware that many gamers out there were keen for us to bring our particular brand of bang-bang-to-the-beats action to PlayStation and Xbox," says Awe Interactive founder David Jones. "We always had plans to support consoles, but we felt like we should treat it as a brand new release, however, and as a result, we looked for a partner to help us do these new platforms justice."
That's where Playtonic Friends stepped in, with Awe Interactive becoming one of the first studios to sign with Playtonic Games' new publishing venture. Cue helium balloons, frozen chicken nuggets, and a host of other entirely fictitious party paraphernalia that never saw the light of day thanks to the games industry's current ever-enduring boss battle: lockdown.
"Signing a deal to publish a game made by a studio you've never physically met whilst simultaneously launching a publishing label might sound daunting for some, but here at Playtonic Friends, we saw it as a challenge to master one of the new normal's routine tasks: Loudly and repeatedly informing each other that one or more of us had left our mics on mute during endless Zoom calls," adds Gavin Price, CEO, Playtonic. "It's been a pleasure to come together with Awe Interactive and we're genuinely excited to bring BPM: Bullets Per Minute to console gamers this summer."
As well as the game that launched on PC last autumn, console gamers will also be treated to all the additional content that has been rolled out by Awe Interactive since, including five brand new characters that let you play in a new unique way, three new weapons to encourage more killing of enemies to the beat, a brand new chapter with its own unique enemies, two new difficulty settings, and a mixture of brand new items, achievements, and assorted tweaks.
BPM: Bullets Per Minute features:
Shoot, jump and dodge to the beat while battling hordes of enemies.
Fight powerful bosses in challenging boss battles that will push you to the edge.
Explore randomly generated dungeons.
Choose from 10 different characters with unique strengths and weaknesses.
Wield a powerful arsenal of weapons, all with different behaviour for firing and reloading to the beat of the soundtrack.
Battle a diverse array of enemies, each with unique rhythmic behaviours.
Get overpowered and fire shotgun rockets while flying through the air.
Utilise abilities that radically alter the way you play the game, from teleport to freezing bolts.
Equip over 60 items that buff your character in unique and interesting ways.
Experience an epic rock opera soundtrack.
BPM: Bullets Per Minute will launch on Xbox One and PlayStation 4 later this year.
For future Xbox updates, release dates and information, check out the Xbox games database, follow @XONEHQ on Twitter, Facebook, Pinterest, Reddit, Instagram, and YouTube, and stay tuned for the latest Xbox news & rumors, and the best new upcoming Xbox Series X|S & Xbox One games, achievements, game trailers, screenshots, and more.
BPM Bullets Per Minute Achievements
Latest BPM Bullets Per Minute News & Rumors
BPM: Bullets Per Minute, the new rhythm-action FPS rogue-like where you must shoot, jump and dodge to the beat of an epic rock soundtrack, is available on Xbox One and...

Awe Interactive has confirmed that their rhythm-action FPS rogue-like BPM: Bullets Per Minute will be launching next month for Xbox One and PlayStation 4.BPM: Bullets Per...
Rate This Article
Average Score: 4




Votes: 1