Cyberpunk Action-shooter RPG 'The Ascent' blasts onto Xbox and PC today
Published: Thursday, July 29, 2021Tagged: Gaming, Windows, Xbox Live, Xbox One, Xbox One X, Xbox Series X|S, Xbox Store

Curve Digital and Swedish indie studio Neon Giant invite gamers to make their mark in the brave new world of Veles, as the studio's highly anticipated debut title The Ascent (@AscentTheGame) launches today on Xbox Series X|S and Xbox One consoles, as well as Xbox Game Pass (@XboxGamePass) and PC at 6pm BST / 7pm CEST / 10am PDT.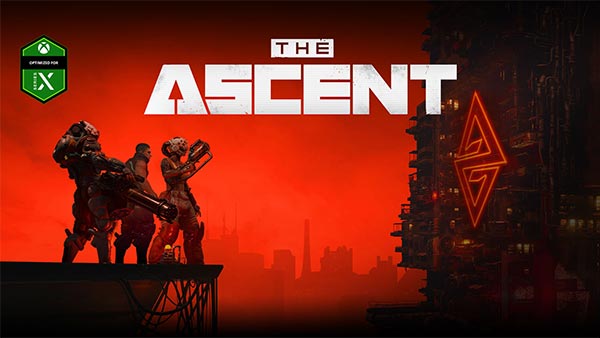 A solo and co-op action-shooter RPG set in a sci-fi cyberpunk world, The Ascent is the first title from Neon Giant, a new 12-person studio composed of games industry veterans who were some of the minds behind iconic AAA titles such as the Gears of War, Bulletstorm and Wolfenstein franchises.
The Ascent sees players dive into 'The Ascent Group' arcology, a self-contained corporate-run metropolis, stretching high into the sky and filled with creatures from all over the galaxy. Taking on the role of an indentured worker, the world starts to go haywire when The Ascent Group shuts down for unknown reasons. Life becomes a case of survival, with rival corporations and crime syndicates looking to fill the empty space and players having to take up arms to hold them off.
"About three years ago we founded Neon Giant; a small game dev studio with the belief that with the right focus and mindset, even just a few people can create grand experiences and high quality games," said Tor Frick, Creative Director and co-founder of Neon Giant. "We have a passion for creating living worlds and action gameplay - it's in our DNA from our shared history in the industry and The Ascent is the result of our team's passion and hard work."
Fellow co-founder and Creative Director of the studio Arcade Berg added: "In The Ascent you start off at the bottom of the food chain - that's just the life of an indent - but as you progress, you will get to grow more powerful, find shiny guns, toys and augmentations making you able to live out your twisted power fantasies - if you choose - with robot tentacles coming out of your back. We will take you across the world, wide and high, in a megacity filled with turmoil and introduce you to characters who have found ways to thrive in this environment. We hope our game is as fun and exciting for you playing it as it was for us to make it."
The Ascent offers players the chance to step into an action-orientated sci-fi RPG powered by Unreal Engine that takes the genre to new levels, available to play in both single-player and up to four-player co-op. The game will target 60 fps and have full 4K support on the Xbox Series X, offering amazing gameplay performance for new generation console players.
The Ascent Features:
A free-roam play style in a cyberpunk inspired dystopian world
Classic RPG mechanics to enable players to build up their character including cyberware, augmentations and looting
An unprecedented sense of verticality within its world, with different levels and platforms discernible within play
Double-aim mechanic enables players to utilise the full screen and choose between multiple targets anywhere in the environment
A narrative-led adventure playable in single and up to four-player co-op modes
The Ascent is now available on Xbox Series X|S, Xbox One consoles and PC and Xbox Game Pass.
Buy today on Xbox | Buy today on PC

To keep up with all the latest Xbox One Series X|S and Xbox One news, release dates and updates, follow @XONEHQ on Twitter, YouTube, Instagram, Facebook, and Pinterest, download the free XBOX app for Android or subscribe via email and rss.
Price: £24.99 / $29.99 / €29.99
Microsoft Store: here
Most Recent Trailers for The Ascent
Latest The Ascent News & Rumors
Neon Giant (@NeonGiantGames) has announced that they have partnered with sound design house Sweet Justice Sound and Altered, developers of Altered Studio, to develop a new...

Curve Games and Swedish indie studio Neon Giant announced that 'CyberSec', the first paid DLC pack for action-shooter The Ascent, launches today across Xbox Series X|S, Xbox...

Microsoft just revealed the latest list of games heading to Xbox Game Pass (@XboxGamePass) for Console, Windows PC and Cloud in July. See the list of titles and the dates...
Rate This Article
Average Score: 4.66





Votes: 3