'Youtubers Life 2' Launches October 19 on Xbox, PlayStation, Nintendo Switch & PC
Published: Tuesday, September 14, 2021Tagged: Gaming, ID@Xbox, Windows, Xbox Live, Xbox One, Xbox One X, Xbox Series X|S, Xbox Store

Raiser Games (@RaiserGames) and UPLAY Online (@uplayonline) confirmed that their forthcoming ultimate life sim, Youtubers Life 2 (@youtubers_uplay), will launch digitally across Xbox, PlayStation, Nintendo Switch, and PC on Tuesday 19th October, 2021. PewDiePie, Rubius, and many more feature in YouTubers Life 2. Watch the brand new trailer to learn more!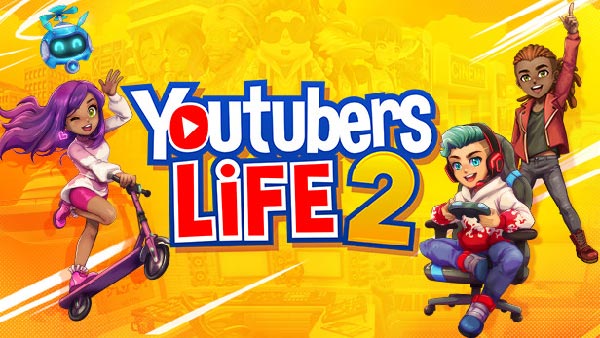 Following up the multi-million selling original Youtubers Life, the new game opens up its world to its players and lets them step out of the bedroom for the first time to explore 'NewTube City'.
But this brand new metropolis isn't just a playground: Its streets will also serve as the player's connection to the hot new trends they need to be making content about. Players will be able to hunt out the new trends other content creators are unaware of, making the most of their appeal with fresh videos. NewTube City is the key to your Youtuber taking on the world. They'll even have a cute and customisable drone who follows them around on their adventures, recording videos to serve as content as they go.
What's more, Youtubers Life 2 also features huge YouTubers actually in play, including PewDiePie, Crainer, LaurenzSide, Rubius, Paluten, InoxTag, Willyrex, GermanLetsPlay, Vegetta777 and xFaRgAnx.
Let's take a look at the official release date trailer!
"It's almost five years since the first Youtubers Life came out, and the game still has a large loyal player base, which is exactly why we wanted to take what they loved from the original and make it even bigger and better with this follow-up," offers Sergio de Benito, Marketing Director at Raiser Games. "The addition of NewTube City takes that original bedroom setting from the first game and turns it into a fully-functional world, featuring activities and trends content creators can use to power their videos. Plus, actually building in real YouTube talent has been an honour. We think Youtubers Life 2 is the ultimate content creator simulator."
In Youtubers Life 2 you will be able to: -
Create content on different apps: NewTube, Glitch, and InstaLife.
Explore NewTube City throughout three different neighborhoods: The City Hall, Downtown, and the Port. Each one has unique stores, leisure centers, activities, and other Youtubers (NPCs) with whom we can build a social relationship.
Follow different trends triggered at different times, take pictures to Instalife, or record VOD and streamings on the way. The city is alive and will be a key to your development as a Youtuber.
Record your progress on your Drone - your closest, customisable friend who will follow you on your adventures.
New customisation options for your character and for your home. For the first time in the franchise, we will be able to customize our home and setup with our preferred style.
Youtubers Life 2, will be available for Xbox, PlayStation, Nintendo Switch, and PC on Tuesday 19th October, 2021 for $29.99/£24.99 on PC, and $39.99/£34.99 on console.
To keep up with all the latest Xbox information, release dates and updates, follow @XONEHQ on Twitter, YouTube, Instagram, Facebook, and Pinterest, download the free XBOX app for Android or subscribe via email and rss.
Youtubers Life 2 Achievements
Most Recent Trailers for Youtubers Life 2
Latest Youtubers Life 2 News & Rumors
Youtubers Life 2 (@youtubers_uplay), the follow-up to the previously released Youtubers Life: OMG Edition, launches across Xbox, PlayStation, Switch, and PC today. Join...

Raiser Games (@RaiserGames) and UPLAY Online (@uplayonline) just released a brand new trailer showing huge YouTubers such as PewDiePie in Youtubers Life 2 (@youtubers_uplay)....

Raiser Games and UPLAY Online have announced that PewDiePie will be headlining a cast of real-life YouTubers who will all appear in forthcoming content creator simulator...
Rate This Article
Average Score: 3.5




Votes: 2