PLAYISM Game Show to Feature World Premieres, Bright Memory Infinite, Gnosia
Published: Wednesday, September 22, 2021Tagged: Gaming, ID@Xbox, Windows 10, Xbox Live, Xbox One, Xbox One X, Xbox Series, Xbox Store

PLAYISM (@playismEN), one of Japan's oldest indie game publisher, renowned for some of the most anticipated upcoming titles and popular recent releases including Bright Memory: Infinite, Gnosia and Mighty Goose, has announced that the second annual PLAYISM Game Show: Premium Edition (PGS) will take place on Saturday, Sept. 25, 2021 at 3:00 AM EDT / 9:00 AM CEST / 4:00 PM JST.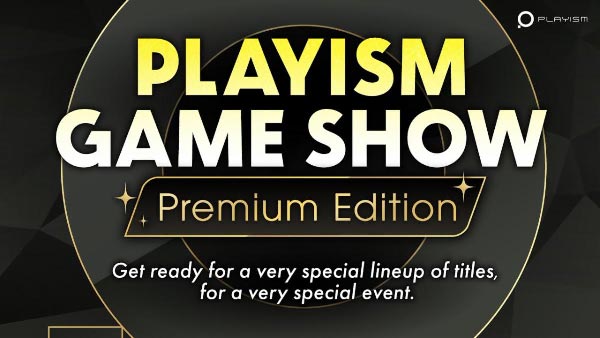 PGS is where PLAYISM will showcase titles that will take part in the Tokyo Game Show (TGS), Asia's premier video game event. The show will also feature announcements for the upcoming Bright Memory: Infinite, along with updates on Gnosia, Record of Lodoss War -Deedlit in Wonder Labyrinth-, The Sealed Ampoule, and many more. PGS will include world premieres and all-new information for both upcoming and previously-released games in both English and Japanese on YouTube.
PLAYISM serves as a gateway between the best indie games of the West and the East, handling international releases of titles such as Mighty Goose, TASOMACHI: Behind the Twilight, Idol Manager, and the Thursday, Nov. 25 release of DEEEER Simulator. In the decade-plus since its inception, the publisher has also supported Kero Blaster from the creator of Cave Story, Momodora: Reverie Under the Moonlight, and Touhou Luna Nights.
PLAYISM also works with developers and publishers around the world to localize and release games in Asian territories, such as PlayStation 5 launch title Godfall, Independent Game Festival Grand Prize winner Umurangi Generation, and BAFTA Award winner Night In The Woods. PLAYISM's Asian catalogue also includes Doki Doki Literature Club Plus!, Subnautica, VA-11 Hall-A, Necrobarista, and more.
"We are honored to be able to celebrate our partnerships with some of the most prominent names in indie games and beyond for our second annual showcase," said Shunji Mizutani, Executive Producer of PLAYISM. "We can't wait to show the world what we have in store for the upcoming months."
PLAYISM Game Show: Premium Edition occurs Friday, Sept. 24, 2021, at 12:00 AM PDT / 3:00 AM EDT / 9:00 AM CEST / 4:00 PM JST with an expected runtime of two hours in English and Japanese on YouTube.
For up-to-the-minute Xbox games news and the best new & upcoming Xbox info, release dates, achievements and more, follow @XONEHQ on Twitter, YouTube, Pinterest and Facebook, download the free XBOX app for Android, and stay tuned!
Official Site: https://playismgameshow.com/
Microsoft has announced that two new Seagate Storage Expansion Cards Xbox Series X|S will soon be available in all Xbox Markets.The Seagate 512GB Storage Expansion Card for...

October 2021's Xbox System Update includes the natively rendered 4K dashboard on Xbox Series X consoles, Xbox night mode, Quick Settings and more.4K Dashboard on Xbox Series...

INDIE Live Expo Winter 2021, the digital showcase connecting indie game fans globally which has highlighted more than 800 titles and gained more than 29 million views...