Indie Soulslike Action-RPG Kristala Unveils Its First Official Gameplay Trailer
Published: Thursday, February 17, 2022Tagged: Gaming, Windows, Xbox One, Xbox One X, Xbox Series X|S

Astral Clocktower Studios unveiled the first gameplay trailer for Kristala, a 3D Dark Fantasy Action RPG coming to Xbox, PlayStation, Switch and PC via Steam. The first gameplay trailer is finally here!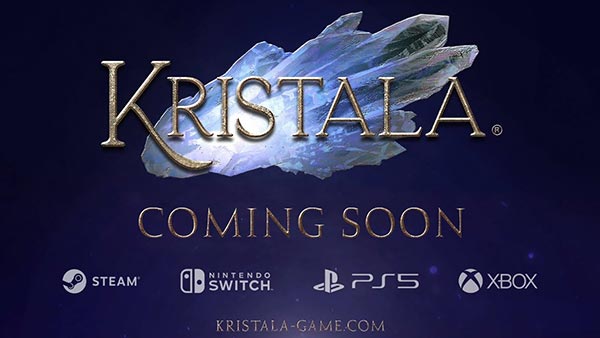 Coupled with fresh gameplay and stunning cinematics created directly in Unreal Engine using the studio's own custom 3D models and animations, the trailer also reveals the first major boss featured in Kristala—a cursed behemoth of an ogre voiced by David Simonich, the lead vocalist of American deathcore band, Signs of the Swarm.
Lovingly referred to as Cat Souls by convention-goers who have already had a chance to play early builds of Kristala, the game invites you into the role of a sapient, anthropomorphic feline warrior who must master the six magic specialties of the ancient Sacred Kristal in order to become a member of the famed Raksaka warriors—a skilled protector of your kind.
As you battle to complete this epic Raksaka Proving, you must also uncover who is behind the terrible curse that has suddenly befallen planet Ailur and mutated its peaceful creatures into bloodthirsty beasts hellbent on seeing you fail your mission.
While Kristala's quick, crushing combat will undoubtedly appeal to players who enjoy the challenge of Soulslike titles, the game's rich lore, robust storylines, and use of familiar animal characters expand its allure to a much broader audience.
"It's incredibly important to us that Kristala make its own statement," says Studio Founder and Producer, Alexis Brutman. "We don't want it to be just another Soulslike game that regurgitates the same expected art style and gameplay mechanics, but rather one that welcomes new players—players who maybe don't typically gravitate towards Soulslike titles—into the genre."
The gameplay showcases just one clan of feline warriors, but the full release will allow you to choose between six different playable clans, each possessing its own unique magic specialties and combat strengths.
Three starting classes and various leveling trees—including a completely unique Feline Skill Enhancement leveling tree—amp up the overall replayability factor of Kristala and provide a minimum of 18 unique playthroughs for players to experience.
Kristala Features
Rekindle Gabriel's memories with rhythmic button presses in time with the music
Storytelling without words – discover Gabriel's journey through music and visuals alone
Gabriel's story comes to life through a beautifully crafted art style created by Alexandre Rey
A unique original soundtrack featuring 26 songs, composed and performed by Charles Bardin and Valentin Ducloux
Play every song perfectly to unlock a hidden chapter
Indie soulslike action RPG Kristala is coming to Xbox, PlayStation, Switch and PC. No release date has been announced.
Keep up to date with all the latest Xbox news, release dates, Xbox achievements and Xbox game trailers, follow @XONEHQ on Twitter, Pinterest, Instagram, Facebook and YouTube, install the free XBOX app for Android, and stay tuned!
Official Site: https://www.astralclocktowerstudios.com/
Rate This Article
Average Score: 4.5





Votes: 2