We Were Here Forever launches May 10 on PC, with Xbox and PlayStation following soon after
Published: Wednesday, March 23, 2022Tagged: Gaming, ID@Xbox, Windows, Xbox One, Xbox One X, Xbox Series X|S

Total Mayhem Games has announcced that We Were Here Forever (@WeWereHereGame) will be available on PC (Steam and Epic) on May 10th with Xbox One, Xbox Series X|S, and PlayStation 5 & 4 following soon after! Watch the dazzling We Were Here Forevetr date reveal trailer!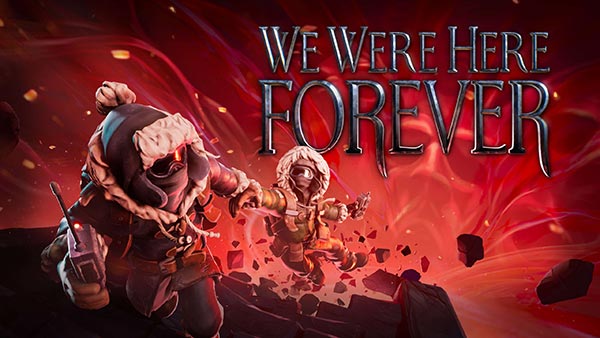 We Were Here Forever ramps up this adventure with new, nonlinear ways to explore the sinister castle together with your partner or friend. Of course, players will also experience an even more intriguing 12+ hour storyline which will lead to a grand finale… With your trusty walkie-talkie as your only means of communication, you and your friend must solve mind-blowing puzzles together to escape once again - or so you hope!
Make your way through previously unseen parts of Castle Rock, and once outside the Keep you will begin to uncover the story of Rockbury: the town's inhabitants and the escape plans of a resistance formed against the King. Hope will lead you on to an eerie Graveyard and have you descend down into the dark waters of the Foundry. As you do so, you will learn more about past events that have taken place in this mysterious place. While trying to make your escape from Castle Rock in We Were Here Forever, you might start believing what you feared all along. Does one ever truly escape Castle Rock?
To prepare players for the game's backstory and offer them a glimpse of We Were Here Forever, Total Mayhem Games is launching a special 6 episode live-action video series called We Were Here Stories: Chronicles of Castle Rock, with the first episode being released today:
Closed beta testers have already successfully been given free reign over parts of this elusive realm. PC gamers will be able to follow in their footsteps on May 10. Following soon afterwards, console players can take their shot at escaping on Xbox One, Xbox Series X|S, and PlayStation 4 & 5! For those who can't wait until then, a playable sneak peek will be available on PC at W.A.S.D. in London from 7-9 April 2022, where Total Mayhem Games will have a dedicated stand.
We Were Here Forever launches May 10, 2022 on PC, priced at $17.99 / €17.99, with Xbox and PlayStation to follow soon after.
To keep up with all the latest Xbox One Series X|S and Xbox One news, release dates and updates, follow @XONEHQ on Twitter, YouTube, Instagram, Facebook, and Pinterest, download the free XBOX app for Android or subscribe via email and rss.