Barcelona-based Novarama And Tencent Reach Investment Agreement
Published: Tuesday, April 05, 2022Tagged: Gaming, Industry

Spanish game development studio Novarama announced it has reached an investment agreement with Tencent, a world-leading technology company.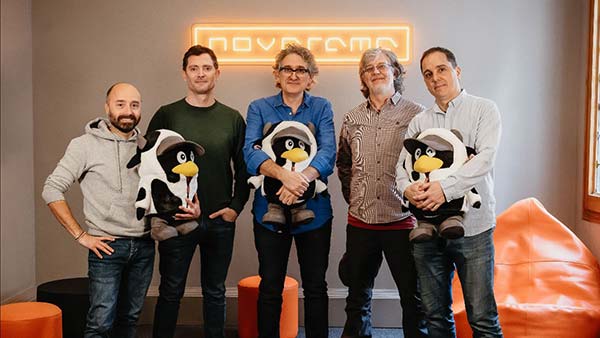 Under the terms of the deal, Tencent will take a stake in Novarama, which is working on a new, unannounced, multi-platform MMO.
"Sir Isaac Newton said: to see further you must stand on the shoulders of giants. Partnering with Tencent, the world's leading publisher of online games, opens a vast world of possibilities for us. Today is a great day not just for us, but also for the Spanish development community as a whole. Thanks to everyone involved on this journey. I can't wait to share what we are working on," said Novarama CEO Dani Sanchez-Crespo.
Novarama, founded in 2003, is a developer and publisher of games. For over 10 years, it was a Sony Exclusive studio, creating and delivering the Invizimals franchise on PSP, PSVITA and PS3. Released in 2009, Invizimals was a pioneer in Augmented Reality, digital goods and transmedia, integrating the game with a Netflix TV show. More recently, it released action-RPG Killsquad on Steam. Novarama is currently focused on session-based MMOs.
To keep up with the latest video game release dates and games industry news, follow @XONEHQ on Twitter, like us on Facebook, subscribe to us on YouTube, check us out on Pinterest, install the free Xbox app for android, and stay tuned for more.
Official Site: novarama.com
APICO, the delightful sim that lets you create and manage your own apiary, is buzzing its way to the Xbox One and Series S|X, thanks to Whitethorn Digital (@WhiteThornGames)...

The biannual live digital showcase INDIE Live Expo 2023 (@INDIELiveExpoEN) has reached more than 84 million total views since its launch in 2020. The May event alone...

You can find casino games that are adaptable and playable on Xbox consoles making the activity more enjoyable. With multiple online casinos, these Xbox versions elevate your...
Average Score: 4




Votes: 1