Social Simulator 'Immortal Life' coming to Steam Early Access on April 28th
Published: Monday, April 11, 2022Tagged: Gaming,

[email protected]

, Windows

2P Games and YiFang Studios are happy to share that Immortal Life, their long-awaited life simulator and RPG, is finally coming to Steam Early Access on April 28th. Join a flourishing settlement in an idyllic valley and seek a peaceful life as you search for a way to restore your recently destroyed Taoist clan.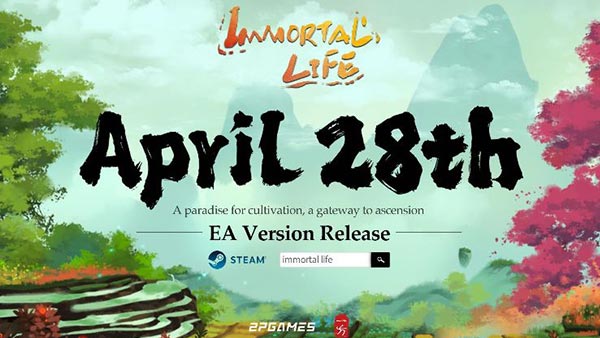 Immortal Life is a beautiful single-player management game where you take the role of a farmer aiming to deepen into the mysteries of soul cultivation. After witnessing the destruction of the cult you were about to join, you'll flee into the valley to join its small community and work hard to help your new brothers and sisters rebuild the sect. You'll mainly take care of the crops, but also gain money to run the organization by selling your products, construct new buildings, and get more members.

Dive into a Chinese fantasy world where, as a member of a destroyed Taoist cult, you will be able to start a new life as a farmer in a gorgeous valley and contribute to the development of a young community. At the same time, you'll work hard to restore your clan by enrolling and training new members. Your journey starts just in a few weeks at a price of 16.99 USD/13.49 GBP/13.99 EUR!
The more you help your new family, the stronger your relationship with them will become – as they open to you, you will get new items, missions, and skills. Strengthening your bounds with the whole community, and finding happiness in it, is as important to your spiritual awakening as successfully managing your village.
The time you spend getting to know your new home will help you find new kinds of raw materials to use or trade with. Some of these will be hidden in the forest, or even underground. Also, who knows... you might find something to help you restore your clan. But be careful: there will be creatures lurking around eager to get their teeth into you!
ImmortalLife will be available on Steam Early Access on April 28, 2022.
APICO, the delightful sim that lets you create and manage your own apiary, is buzzing its way to the Xbox One and Series S|X, thanks to Whitethorn Digital (@WhiteThornGames)...

The biannual live digital showcase INDIE Live Expo 2023 (@INDIELiveExpoEN) has reached more than 84 million total views since its launch in 2020. The May event alone...

You can find casino games that are adaptable and playable on Xbox consoles making the activity more enjoyable. With multiple online casinos, these Xbox versions elevate your...