The Star Wars Digital Movie Collection Arrives on Xbox
Published: Monday, April 06, 2015Tagged: Xbox Live,

Disney has just announced the availability of the Star Wars Digital Movie Collection – all six epic Star Wars films for the first time on Digital HD, and with all new never-before-seen bonus material. We're thrilled to reveal that Xbox is a digital distribution launch partner and we're offering exclusive incentives for Xbox customers who purchase the Saga on Xbox Video!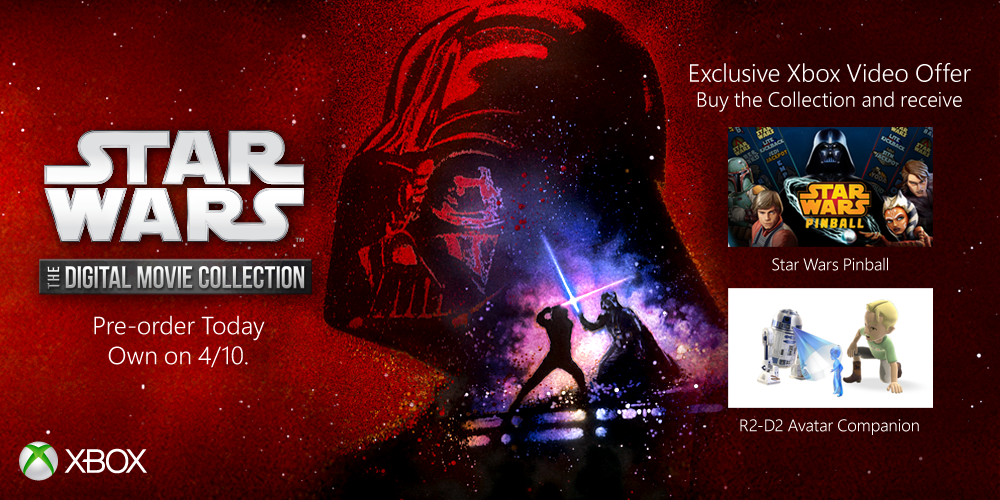 Microsoft is offering two exclusive incentives for fans who purchase the six-film bundle on Xbox Video. First, they will receive everyone's favorite scrappy astromech droid, R2-D2, as an Xbox Live avatar companion that flashes characteristics of classic R2-D2 from "A New Hope." Also, they will receive the action-packed Star Wars Pinball Pack for the free-to-play game Pinball FX 2, for Xbox One or Xbox 360.
In addition, Disney is offering a Star Wars featurette video exclusively for Xbox customers; only by pre-purchasing the Saga on Xbox Video will you receive an exclusive roughly 60 second sneak peek at the bonus material included in the Star Wars Digital Movie Collection. Customers will receive the Xbox-exclusive featurette when they pre-purchase the "Star Wars" saga bundle on Xbox Video, then all six epic films in the Saga will be added to their collection in all their high-definition glory on April 10.
Xbox Video is available today as a free download on Xbox One, Xbox 360, Windows 8/RT, Windows 8.1, and Windows Phone. Verify Xbox Video availability and system requirements.
May the Force be with you!
It's no surprise that the console wars are already heating up somewhat - despite the disruptions amongst the global pandemic the holiday season is still quickly approaching...

The June 2020 Xbox One Update is now available and includes improvements for your digital game library, verified Official Clubs and more.Let's find out what's new in the June...

The Xbox Series X is fast approaching with a release for this Holiday season. Microsoft has already lined up dozens of video games for its next-gen and current-gen console....
Average Score: 4.66





Votes: 3