Wired Productions Steam Publisher Sale Kicks Off On June 3rd
Published: Thursday, May 26, 2022Tagged: Gaming, Industry, Windows

Publisher Wired Productions kicks off its annual Publisher Sale on Steam, featuring up to 90% savings from June 3rd to June 10th.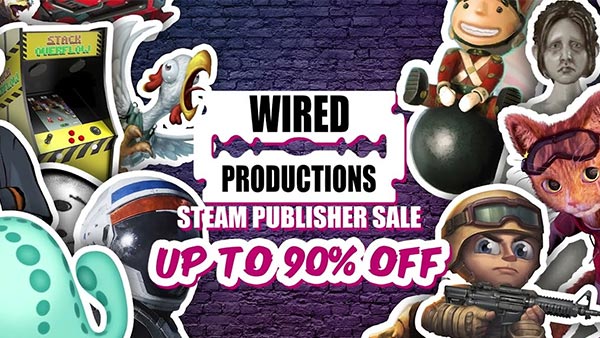 Wired's message is clear: "Don't spend a dime on Steam until then!". The Sale heads up a busy period, with The Last Worker and Tin Hearts featuring demo debuts in the Steam Next Fest, from June 13th to 20th along with developer play sessions and live Q&As. The full list of discounts for the Publisher Sale will be revealed within the coming days and the countdown starts now! Wired also promises more news and reveals throughout June, and apart from two days to celebrate Her Majesty the Queen, will be busy preparing the best, most diverse and original indie games!
Ahead of Steam Next Fest, Content Creators and members of the Press can play both Tin Hearts and The Last Worker demos starting today, over two weeks before the public release. Wired have also been able to sneak in a demo for Arcade Paradise as a part of the collection too.
When asked for a quote, Leo Zullo, Managing Director at Wired Productions said: "Don't buy a *****ing thing off Steam until June 3rd - you won't regret it!"
Arcade Paradise
Arcade Paradise, developed by Nosebleed Interactive, is a retro arcade adventure with a hint of management. Rather than washing rags for a living, you decide to turn the family laundromat into the ultimate arcade. Play, profit and purchase new arcade machines, with over 35 to choose from, to build your very own Arcade Paradise!
Arcade Paradise will be released in 2022 on Nintendo Switch, PC, Xbox Series X|S, Xbox One PlayStation 5 and PlayStation 4.
The Last Worker
The Last Worker, from Writer / Director Jörg Tittel and pioneering games studio Wolf & Wood, is a first-person narrative adventure centered around humanity's struggle in an increasingly automated world, where humans are being replaced by robots. Combining a hand-crafted art style with uniquely immersive gameplay mechanics in an epic setting, The Last Worker delivers an emotional, thought-provoking story that is packaged with rich characters performed by an all-star cast: Zelda Williams, Tommie Earl Jenkins, Jason Isaacs, David Hewlett, Clare-Hope Ashitey and Ólafur Darri Ólafsson.
The Last Worker will be released in 2022 on Steam, Epic Games Store, GOG, Nintendo Switch, Xbox Series X|S, PlayStation 5, and Meta Quest 2.
Tin Hearts
Tin Hearts is an immersive Lemmings-style puzzle adventure game from former Lionhead Studios and Fable developers, Rogue Sun. Guide a troop of tin soldiers through a beautiful, toy-filled world full of magic and mystery. Solve increasingly elaborate puzzles, forge new paths for your toys to follow and discover the deeply emotional story of Albert J. Butterworth, a genius inventor in Victorian times.
Tin Hearts will be released in 2022 on PC, Nintendo Switch, PlayStation 4, PlayStation 5, Xbox Series X|S and Meta Quest 2.
The Wired Published Sale takes place June 3rd - 10th, 2022, with the full list of discounts to be revealed then!
Madowl Games revealed their new stealth title 'The Directorate: The Spy Who Killed A Saint', which will feature a captivating narrative by industry veteran Steve Ince, is set...

Team17 (@Team17) announced their participation in gamescom 2023, the biggest interactive entertainment trade show in the world, held in Cologne, Germany.From 23rd-27th...

Rise of the Triad: Ludicrous Edition, a brand-new Source port of the 1995-released first-person shooter with widescreen resolution support, a classic mode, mouselook support,...