DayZ Update 1.18 packs a punch with new weapons and a new dynamic event
Published: Friday, June 17, 2022Tagged: Gaming, ID@Xbox, Windows, Xbox DLC, Xbox Game Preview, Xbox Live, Xbox One, Xbox One X, Xbox Series X|S, Xbox Store

Bohemia Interactive announced that it's latest update for DayZ is OUT NOW on Xbox, PlayStation and PC. Bringing explosives and weapons galore, update 1.18 also introduces train wrecks as a new dynamic event. You'll find more information in the press release below, including a new trailer too.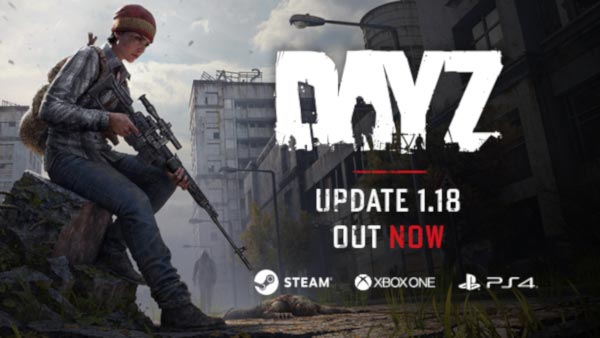 he update also offers a new dynamic event - this time in the form of train wrecks - which can lead to unexpected encounters on railroads located all around the map. Finally, the update includes the compact Derringer, as well as sawed-off variants for the Blaze rifle and community favourite Revolver.
Let's take a look at the Update 1.18 Dayz Update Trailer.
With update 1.18, base raiders can now use the Grenade Launcher M79 to break the spirits and bases of unfriendly survivors. The M79 offers quite the big bang, with 3 types of 40mm ammunition available. Players can search for and find smoke grenades, explosive grenades, and even rare P-OX grenades that contain deadly gas.
If you're looking for even more bang in your life, then you're in luck, because you can now set a timer on new plastic explosives and craftable improvised explosives, as well as search for a detonator to trigger them remotely. There's also the possibility to cover your flanks in a firefight with the famous Clamore Mine, which offers immense directional damage at close range. And once you've run away with all that loot, you can celebrate the occasion with fireworks, which have managed to find their way into this explosive update.
Ever looted a heli crash? Then you know how exciting dynamic events can be. With update 1.18, DayZ has expanded the map's variety by adding dynamic train wrecks. They come in three tiers – ranging from civilian to military trains – and offer some of the best loot available, including the M79. Be careful, however, because former passengers may appear in deadly swarms if you happen to make too much noise.
One way you can now get ahead in DayZ is by surprising your enemies with a concealed weapon. The Derringer, for example, is small enough to fit into a teddy bear, though the double-barrel .357 offers enough damage to deal a fatal blow. And if you love combining different load-outs, then you'll be thrilled to hear that the Blaze and Revolver now offer craftable sawed-off variants. These variants reduce a weapon's weight and a number of slots needed in the inventory, making them perfect secondary weapons during heated combat when reloading is simply not an option.
Topping everything off, server owners are better able to customize their servers now (consoles included) thanks to a bunch of new tools and options.
Overall, update 1.18 offers more explosive havoc and memorable encounters than ever before, making it the perfect time to jump in and join the fiery fun.
Update 1.18 Includes
M79 Grenade Launcher

4 x smoke varients
40mm Explosive
Contaminant Gas

Industrial C4
IED Remote explosive
Claymore
Contaminate Gas Grenades
Fireworks Launcher
Derringer Pistol
Sawed-off variants of Blaze and Revolver
Dynamic Train event
More Assets for Console community servers
To keep up with all the latest Xbox News & Rumors, be sure to follow @XONEHQ on Twitter, YouTube, Instagram, Facebook, and Pinterest, download the free XBOX app for Android, and stay tuned!
Most Recent Trailers for DayZ
Latest DayZ News & Rumors
Check out a list of upcoming titles coming to Xbox Game Pass (@XboxGamePass) for Console in May.Games Coming Soon to Xbox Game Pass for ConsoleLet's take a look at whats...

The November 2018 Xbox Update is now rolling out worldwide for all Xbox Users. November's update adds Xbox One Mouse and Keyboard Support, Xbox Skill for Cortana & Alexa...

Bohemia Interactive's open world survival video game DayZ (@DayZ) is available now on Xbox Game Preview.DayZ is a gritty, authentic, open-world survival horror hybrid-MMO...
Rate This Article
Average Score: 4.4




Votes: 5