Bandai Namco Europe announces 'My Hero Ultra Rumble' for Xbox One, PS4, Switch, and Windows PC via Steam
Published: Wednesday, July 06, 2022Tagged: Gaming, Windows, Xbox One, Xbox One X, Xbox Series X|S

Bandai Namco Europe announced that MY HERO ULTRA RUMBLE, a free-to-play online multiplayer Battle Royale game based on the popular anime series, is coming to Xbox One, PlayStation 4, Nintendo Switch, and Windows PC via Steam.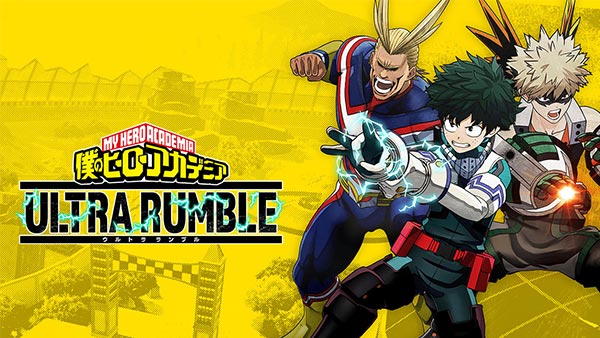 The game was revealed at the Bandai Namco "Summer Showcase" panel at Anime Expo 2022 in Los Angeles, where the company also announced pre-registrations are now open for a Closed Beta Test on PlayStation 4 running August 18-21.
In MY HERO ULTRA RUMBLE, players will join one of eight three-player teams as Heroes or Villains as they battle on expansive citywide maps. By controlling classic My Hero characters, fans can make the most of their Quirks to attack enemies and cooperate with their team to survive fights. Players can also contribute to their team's victory by rescuing or intimidating civilians on the field to obtain powerful items that can determine the outcome of the battle.
Watch the official announcement trailer below.
"The world of My Hero and its colorful cast of Heroes, Villains, and their Quirks provide the perfect setting for a fun and frenzied free-to-play Battle Royale experience that remains faithful to the series' themes and strengths," said Aoba Miyazaki, Producer at Bandai Namco Entertainment Inc. "We're eager to share our take on team-based Heroes vs. Villains gameplay through our first Closed Beta test, and we can't wait to work with the community to make MY HERO ULTRA RUMBLE a thrilling Battle Royale experience for fans and players of online multiplayer games."
MY HERO ULTRA RUMBLE's upcoming PlayStation 4 Closed Beta will run in two phases:
Phase 1: Starts on 17th August at 7:00 p.m. PT, and ends on 18th August at 3:00 a.m. PT
Phase 2: Starts on 18th August at 7:00 p.m. PT and ends on 21st August at 11:00 a.m. PT
For more information and to sign up for the Closed Beta Test, please visit the game's official page.
MY HERO Ultra Rumble Achievements
Most Recent Trailers for MY HERO Ultra Rumble
Rate This Article
Average Score: 4.66





Votes: 3