Game Dev Legend Frederick Raynal Announces The Last Worker Spin-off 'SKEW'
Published: Tuesday, October 04, 2022Tagged: Gaming, ID@Xbox

Jörg Tittel, writer-director of the highly anticipated console, VR and PC game The Last Worker, announced a collaboration with one of the greatest and most influential developers of all time, Frédérick Raynal (Alone in the Dark, Little Big Adventure, Toy Commander).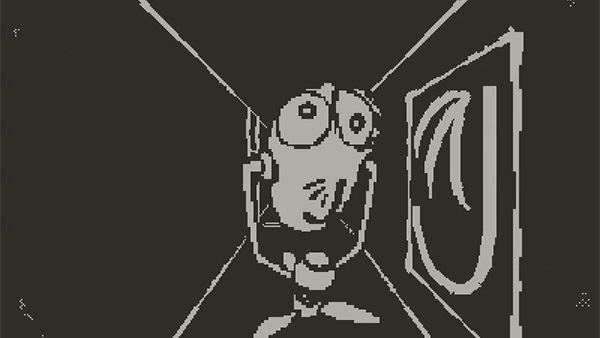 Developed exclusively for Playdate, Panic's beloved yellow handheld system with a crank, SKEW is an "endless spinner" starring the broken CoBot voiced by Jason Isaacs (Harry Potter, The Death of Stalin, Star Trek Discovery).
SKEW is based on an exhilarating sequence from the star-studded narrative stealth adventure, The Last Worker, currently being developed by Wolf & Wood, produced by Tittel's Oiffy and published by Wired Productions.
SKEW Features:
Propeller Powered: SKEW has to fly through the hazardous back channels of JFC-1, the largest online retail facility in the world, powered with just one propeller.
Dodge Danger at Breakneck Speeds: The further players get, the faster they go, the bigger the score.
Leaderboards: Beat your own scored on the device or Compete and Compare Results Online
Realtime 3D on the 1-bit Playdate - the blazing fast levels are rendered in buttery smooth real time 3D, thanks to Frédérick Raynal's proprietary wireframe engine
Every Playthrough is Different: Procedurally generated levels, so every race is unique
Full Accessibility: a range of control options, from crank, accelerometer, and various button/D-pad combinations.
SKEW marks Frédérick Raynal's return to game development after a long break, during which the Alone in the Dark creator dedicated his time to working on complex projects involving robotics, smart cities and more.
RED ART GAMES announced that Nuclear Blaze, the latest game from Sébastien Bénard, creator of the critically and publicly acclaimed Dead Cells, is coming to Xbox One &...

Despite the popularity of the pirate saga Pirates of the Caribbean, scallywags of the high seas haven't always made the biggest waves in the video game community. Sid...

The next free Daily Rides season for Lonely Mountains: Downhill is dropping today on Xbox One, PlayStation 4, Nintendo Switch and PC via Steam.Players who take up the...