Crossout "Mr. Twister" Content Update Is Available Now On Xbox, PlayStation & PC
Published: Monday, November 28, 2022Tagged: Gaming, ID@Xbox, Steam, Windows, Xbox DLC, Xbox Live, Xbox One, Xbox One X, Xbox Series X|S, Xbox Store

Gaijin Entertainment confirmed the release of the "Mr. Twister" content update for post apocalyptic vehicular combat online game Crossout. Choose one of the available armoured cars, hit the streets of the Dead city and create a festival of chaos and destruction to the delight of Mr. Twister. And let the Judgment night begin! The event will be available until December 14th.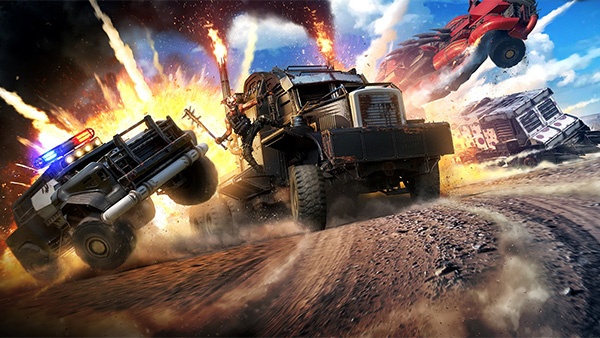 Get stuck into the new battle mode called "Judgment Night", with twelve unique armored vehicles wielding guns, rockets and superpowers fight to the death in the "Dead City'' arena to receive prizes from the mysterious Mr. Twister.
"Judgment Night" is a PvP mode in which players take a break from crafting their own armored vehicles Crossout-style and focus on simply destroying opponents with pre-assembled machines of war. The Bloody Carriage, Junk Truck, Piranha, Renegade, Undertaker, Sledgehammer, Crimson Hawk, Shredder, Stuntcar, Warrior, Ash and Ice Cream Truck take the spotlight during the Judgement Night! The battle rules are also unusual for Crossout: Mr. Twister has placed bonuses on the map like ammunition, rockets and mines, accelerator fuel or a repair kit. By destroying enemies, players fill a special gauge that opens up access to super powerful abilities and weapons, such as a demolition drone, a Tesla emitter, an automatic flamethrower, and fire barrels launcher. In this mode all vehicles can also dash left and right to dodge enemy missiles. Getting killed does not stop the fun here, as players immediately respawn on the same or a different vehicle. The winner is the one who destroys the most enemies in the allotted time.
The new "Mr. Twister" season pass also launches, with some tasks meant for the "The Judgement Night" mode, while others could be completed in the classic Crossout modes. The rewards include cosmetic items, more options for choosing an armored car in the "Judgment Night" mode, and other content. A paid battle pass will allow the players to get the Bloody Carriage armored car permanently, as well as open a way to get even more car parts and other content.
Attention! The brawl and Battle pass season will be available until December 14!
"Judgment night" is a PvP mode unlike any other brawls in Crossout. The battles take place on preset armoured cars, each of which was carefully assembled by Mr. Twister solely for chaos and destruction of opponents!
You were destroyed by the enemy? Not a problem! Now you take your revenge, because this brawl supports respawns.
Mr. Twister is ready to supply the most desperate survivors with more and more cool armoured vehicles. The most important thing is to prove that you are worthy!

At the start of the battle and each time after destruction, the player is offered a choice of 2 armoured cars to continue the battle.
The number of cars offered at the same time can be increased at level 15 of "Mr. Twister" (+1 available slot, available to everyone).
Another additional slot is available to the owners of the Battle pass from level 1.
The variety of vehicles available for selection can be increased by unlocking new blueprints in the season rewards.

Let's increase the degree of madness: Mr. Twister has placed bonuses on the map that will help you in unstoppable destruction of your enemies:

upgraded ammo pack for the main weapon of the vehicle you selected;
rocket-mine pack, which also depends on the selected vehicle. But be careful: you can only use one bonus!
booster fuel replenishment;
partial restoration of the vehicle's durability. All to ensure that the series of destruction never ends!

As you destroy your enemies, you gradually fill in a special scale. A fully filled scale gives you an ability to use a particularly powerful weapon to break the enemy into pieces! Each vehicle has its own superweapon:

Bloody carriage — explosive drone.
Junk truck — launches an exploding car forward.
Piranha — significantly increases damage for 10 sec.
Renegade — Tesla emitter.
Undertaker — fire barrels.
Sledgehammer — high-precision rocket launcher.
Crimson hawk — throws back the enemies and damages them.
Shredder — automatic flamethrower.
Stuntcar — automatic flamethrower.
Warrior — calls up a raider with a grenade launcher.
Ash — laser-guided rockets.
Ice cream truck — rocket drone.

Don't forget about strafing!

In this brawl, all vehicles can dash left and right.
To dash, use the strafe keys.

In this brawl, it is impossible to shoot off vehicle parts. The only option is to destroy the enemy's car completely.
An ideal place for a festival of destruction and chaos: battles are held in "Dead city" — a location designed specifically for this mode.
The player who destroys more enemies in the allotted time wins the battle.
Season "Mr. Twister"
Until the end of the event, players will have access to special challenges, the completion of which will be rewarded with season experience points.

The challenges in the "Judgment night" section can only be completed in this brawl.
The challenges of the "Mr. Twister" season can be completed in any game modes (including the "Judgment night" brawl).

Season experience points are required to unlock the "Mr. Twister" season levels and rewards.
The base season rewards are available to all players without exception. They include:

New blueprints for the "Judgment Night" brawl;
Stickers;
Decor;
Paint cans.

All additional rewards are only available to those who have purchased the new "Mr. Twister" battle pass (marked with a lock icon on an orange background). Purchasing the pack gives you access to:

New themed stickers and paints;
Additional blueprints for the "Judgment night" brawl;
Special versions of blueprints for the "Judgment night" brawl;
Additional in-game coins;
Unique portrait "Mr. Twister";
New decor "Tines";
Ability to produce upgraded parts on a special workbench.
Resource "Lighters" for each level from 36 and above. You can exchange the received lighters for parts at the event workbench. Such recipes do not require additional resources and parts for production.
A unique pack that contains a themed armoured car, as well as access to additional rewards in the "Mr. Twister" battle pass and an additional slot with an armoured car for the brawl.
Unlocks the ability to receive all additional rewards in the "Mr. Twister" Battle pass.
Unique armoured car: "Bloody carriage";
Cabin: "Hot Rod";
Movement parts: wheels "Stallion" (2 standard and 2 ST);
Weapons: 2 machine guns "Sinus-0";
Paint cans: "Burnished steel", "White" and "Cherry";
Early access to certain structural parts.
Maximum number of parts increased to 80.
Crossout is available on Xbox One, Xbox Series X|S, PlayStation 4, PlayStation 5 and PC.
Catch up with the latest Xbox news, video game releases and DLC updates, follow @XONEHQ on Twitter, Pinterest, Instagram, Facebook and YouTube, install the free XBOX app for Android, and stay tuned!
Xbox Store: here
Most Recent Trailers for Crossout
Latest Crossout News & Rumors
The "Spring Mayhem" event for post-apocalyptic online action game Crossout is live on Xbox One, PlayStation 4 and PC. Take part in the battles, move up the ranking board...

Gaijin Entertainment announced that the "Big Chase" Content Update for its post-apocalyptic online action game, Crossout, brings a new Battle Pass season, the long-awaited...

Targem Games and Gaijin Entertainment have announced that "Snowstorm", the latest update for the post-apocalyptic vehicular action game Crossout (@CROSSOUT_EN), is now...
Rate This Article
Average Score: 4.5





Votes: 4