JSAUX Reveals New Dock, Skins And Wireless Speakers For Steam Deck
Published: Thursday, February 09, 2023Tagged: Gaming, Steam, Steam Deck

JSAUX just revealed three new products that will be available just in time for Valentine's Day. The black and pink wireless speakers (SP0208, SP0209) that marked their debut in audio products will be sold as a double pack for a limited time, just as the new red edition of its 6-in-1 docking station for Steam Deck (HB0603). In addition to these two, JSAUX just announced the comeback of their skin sets with five new models to choose from.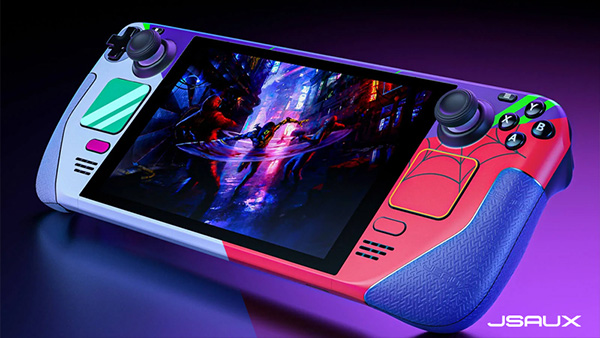 Parallel to these releases, JSAUX will be running a Valentine's Day event that starts this Friday and will end on February 14. All products mentioned are part of the discounts planned by the electronics brand, as well as many other popular accessories for Steam Deck.
PASSION RED FOR THE PERFECT GAMER DATE
On the occasion of Valentine's Day, JSAUX has introduced a limited red edition of their 6-in-1 docking station, which features a USB-C charging port, an HDMI output to display games in [email protected] and three USB-A 3.0 ports compatible with controllers, keyboards and other gaming peripherals. This red dock will not only offer you many hours of fun in the company of your partner or friends, but will also give a modern and daring touch to your gaming setup or living room.
Retail price HB0603 (Red Edition): $49.99, $39.99 with Valentine's Day promo.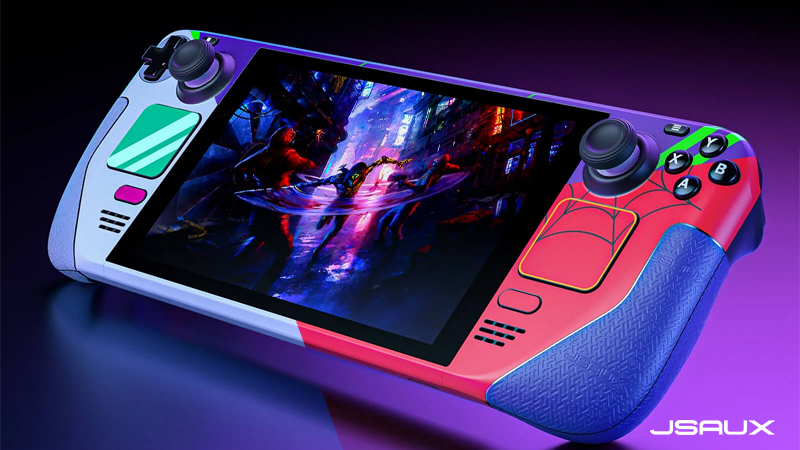 NEW YEAR, NEW SKIN
Customizing a Steam Deck is more than just changing or adding up new parts. If you want to add a touch of color without drastic changes, the new JSAUX skins (GP0002) are your best option. These sets are coming with touchpad stickers, keycaps and rough anti-slip skin for side grips. Their soft touch will feel pleasant during long game sessions. Plus, JSAUX has improved the design to ensure durability.
Models available:
Ice Blast, just simple and clean.
Retro Boy, a link to the past you always longed for.
Mondrian, dress fashion before jumping straight into action.
Spider Dance — we're sorry to say it doesn't grant superpowers.
Berserk, the antihero's best armor.
Retail price GP0002: $19.99, $16.99 with Valentine's Day promo.
Those purchasing a skin set along with the red docking station will get it at a reduced price of $10.
THE SOUND OF LOVE
Last week, JSAUX announced its first dive into the world of sound accessories with the launch of a new line of wireless speakers. The basic model (SP0208) features high-quality stereo sound, a 1200mAh lithium battery with up to 8-hours autonomy, and its own phone stand on the top. As for the upgraded model (SP0209), there is a magnetic charger for MagSafe-compatible devices as well. Both devices can be purchased in pink and black separately, or in a double pack.
Retail price SP0208:
Black: $24.99, $23.99 with Valentine's Day discounts.
Pink: $26.99, $24.99 with Valentine's Day discounts.
Retail Price SP0209:
Black: $29.99, $27.99 with Valentine's Day promo.
Pink: $31.99, $29.99 with Valentine's Day promo.
For more video game news, release dates, hardware and accessories for Xbox One, Xbox Series X|S, Windows PC, Steam, GOG & Epic Store, follow @XONEHQ on Twitter, Instagram, and Pinterest, subscribe on YouTube, and install the free Xbox News app for Android.
Official Site: https://jsaux.com/
Well, if you are wondering about mic monitoring then we have the right answer for you. With the help of mic monitoring, you can hear yourself and the sound that is being...

Green Man Gaming and developers Pewter Games and LoPoly have confirmed that chaotic co-op heist game Filthy Animals: Heist Simulator will launch on April 4th for PC via Steam...

War Child, Black Razor Records and alternative rock/rap artists, Ivar & The Horde, today announce the release of a new anti-war song "Broken Walls", dedicated to...
Average Score: 4.5





Votes: 2