Learn How to Speak Up for Yourself with Safe In Our World, a Free Online Program Starting Next Month
Published: Thursday, September 28, 2023Tagged: Gaming, Industry

Safe In Our World, a charity that supports the mental health of the games industry, is launching a free online program to help games professionals speak up for themselves. The Self-Advocacy Speaking Program will run from October to December this year and will teach participants how to communicate their needs, boundaries, and preferences effectively.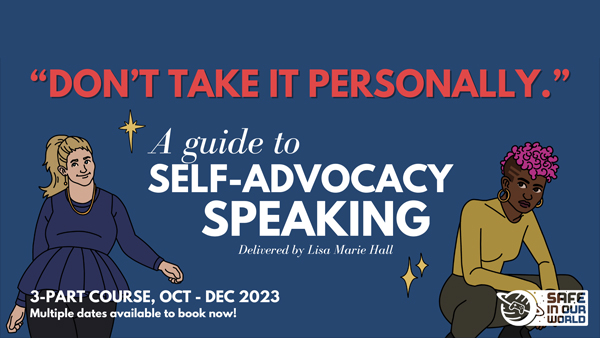 Self-advocacy speaking is a communication method rooted in psychology, diversity and inclusion, and workplace wellbeing. This certificated course is split into three parts – taking place throughout October, November, and December – and was created based on feedback from people working within the games industry to help address the real-life issues they face in their professional lives.
The program focuses on using language to navigate challenging situations, and participants will explore the ways in which words can be chosen and sentences can be constructed to better advocate for their own needs and foster healthy workplace relationships. "The course is designed not to teach you a new language, but to reconnect you with what you already know and bring it back out into the open for your benefit and for those in your lives at home and at work," explains course facilitator and personal development coach Lisa Marie Hall.
"It's not always easy to advocate for ourselves in the workplace, and these struggles are only compounded when you're a member of an underrepresented community," says Sky Tunley-Stainton, Partnerships & Training Manager at Safe In Our World. "Our Self-Advocacy Speaking Programme was created with underrepresented people in mind, as we often find that neurodivergent people, disabled individuals, and folks from the LGBTQIA+ and BIPOC communities have to fight the hardest to get their needs met in the workplace."
At the end of the course, attendees will receive a certificate of attendance along with a handbook (co-authored by Safe In Our World and Lisa Marie Hall) that will help them take their learnings forward into their lives and careers. Available to book via Eventbrite now, and with limited spaces available, interested participants are encouraged to sign up for this free training program as soon as possible.
Dive into more games industry news and events by following @XONEHQ on Twitter, Instagram, and Pinterest, subscribe on YouTube, or install the free Xbox News app for Android.
Official Site: https://safeinourworld.org
Forthright Entertainment and Soma Games announced that The Lost Legends of REDWALL: The Scout Anthology has been delayed and will now release on Xbox Series, PS5 and PC in...

The gamers' charity SpecialEffect (@SpecialEffect) received over £500,000 in donations from more than 90 games industry partners who participated in the One Special Day...

Chimera Entertainment confirmed that Strategy 4X title, Songs of Silence, will release in Spring 2024. The game will be released first on PC, with console versions...