Double Fine
Headquarters:

San Francisco, California, USA.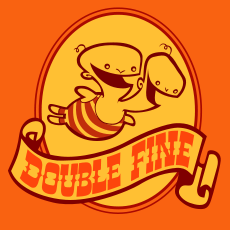 Double Fine
Double Fine Productions is an American video game developer based in San Francisco, California. Double Fine Productions, is now a first-party Microsoft Studio.
Some of Double Fine's most popular games are:
Follow @DoubleFine on Twitter, subscribe to the Double Fine YouTube channel, and like the official Double Fine page on Facebook.
Games developed by Double Fine
Broken Age is a timeless coming-of-age story of barfing trees and talking spoons. Vella Tartine and Shay Volta are two teenagers in strangely similar situations, but radically different worlds. The player can freely switch between their stories, help..

Platform: Xbox One

June 23, 2017

Trick, treat and pick a fight with villainous dental soldiers in Costume Quest 2, the sweet sequel to Double Fine's hit original, Costume Quest. This inspired RPG adventure includes a range of new features and gameplay improvements to double the am..

Platform: Xbox One

October 29, 2014

Originally released by LucasArts in 1993 as a sequel to Ron Gilbert's ground breaking Maniac Mansion, Day of the Tentacle is back in a remastered edition that features all new hand-drawn, high resolution artwork, with remastered audio, music and so..

Platform: Xbox One

October 29, 2020

Originally released by LucasArts in 1995, Full Throttle is a classic graphic adventure game from industry legend Tim Schafer, telling the story of Ben Throttle; butt-kicking leader of biker gang the Polecats, who gets caught up in a tale of Motorcycl..

Platform: Xbox One

October 29, 2020

One of the most acclaimed adventure games of all time arrives on Xbox Game Pass! Manny Calavera is a travel agent at the Department of Death, selling luxury packages to recently departed souls on their four-year journey to eternal rest. But there's..

Platform: Xbox One

October 29, 2020

Double Fine & Adult Swin Games "Headlander" is now available for #Xbox One! You are the last known human in the universe, and all that's left of you is a disembodied head. Seeking clues to your fractured past, you must travel through a hostile wor..

Platform: Xbox One

November 18, 2016

MASSIVE CHALICE is a tactical strategy game set on an epic timeline from Double Fine Productions. As the Immortal Ruler of the Nation, you'll take command of its heroes, forge marriages to strengthen your Bloodlines, and battle a mysterious enemy kno..

Platform: Xbox One

June 01, 2015

Psychonauts 2 is a mind-bending trip through the strange worlds hiding inside our brains. Freshly-minted special agent and acrobat extraordinaire Razputin "Raz" Aquato returns to unpack emotional baggage and expand mental horizons. Along the way ..

Platform: Xbox One

August 25, 2021

Double Fine's radioactive post-apocalyptic video game RAD is coming to Xbox One in 2019! RAD is set in a post-post-apocalyptic world. As a teenage protagonist, players must journey into the Fallow - an ever-changing, procedurally generated wastela..

Platform: Xbox One

August 20, 2019

The Cave is a new adventure game from Monkey Island and Maniac Mansion creator Ron Gilbert, and Double Fine Productions, the award-winning studio behind Psychonauts and Brütal Legend. Assemble your team of three from seven unlikely adventurers, e..

Platform: Xbox One

July 18, 2023
Browse All Xbox One & Xbox Series X|S Video Games