Xbox Live Gold Members Play Every Game in EA Access Free (June 12-22)
Published: Tuesday, June 07, 2016Tagged: Gaming, Xbox Live, Xbox One,

Microsoft announced today that Xbox Live Gold members get to experience the EA Access Vault for free starting June 12 – 22. Play First, Play More, Pay Less. All with EA Access on Xbox One!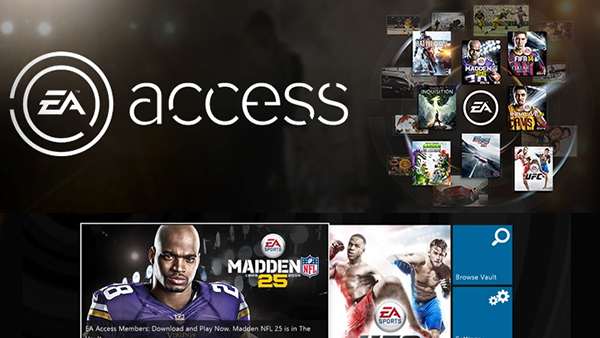 Xbox Live Gold members can get started by downloading the EA Access Hub App by clicking on the Gold Member area on the home dashboard. No credit card or sign up are needed, so don't miss out on your chance to play awesome EA games for free!
EA games in The Vault now include Battlefield Hardline, EA SPORTS UFC, Battlefield 4, FIFA 16, Dead Space, Madden NFL 16, Dragon Age: Inquisition, Rory McIlroy PGA TOUR, NHL15, Titanfall, Plants vs. Zombies Garden Warfare, Need for Speed Rivals, NBA LIVE 15, Peggle 2, FIFA 14, and Madden NFL 14.
After EA Access Free Play Days, you'll have the option to become an EA Access member for $4.99 (USD) per month, or $29.99 (USD) for a full year, and can continue playing your favorite Vault games right where you left off. You'll also get to keep your Gamerscore and achievements earned while playing.
With EA Access, members can play new EA titles before they are released for a limited time and save 10% on all EA digital purchases on Xbox One. You'll be among the first to download and explore Battlefield 1, FIFA 17, Madden NFL 17, Mass Effect: Andromeda and other new EA games. Since you're playing the real game and not a demo, your saved progress will carry over if you decide to buy the full game once it's released.
Learn more about EA Access Free Play Days or get the full details on EA Access, and enjoy some great gaming next week!
Get 12 months of Xbox Live Gold from Amazon – on sale now
Xbox Games Database: here
Aksys Games announced today that Tin & Kuna will be rolling onto the Xbox One, PlayStation 4, Nintendo Switch and PC this fall. Help Kuna save his buddy Tin and rebuild...

We're only a little over a week away from the much anticipated release of the Final Fantasy VII remake - the game did its part in redefining modern JRPG games and has in...

The video game industry is incredibly popular, with millions of people playing their favorite games on Xbox every day. Even if they aren't playing themselves, they are...
Average Score: 4.85





Votes: 7