Open World Extreme Sports Video Game STEEP Is Out Now!
Published: Friday, December 09, 2016Tagged: Gaming, Xbox Store, Xbox One,

Ubisoft's open world extreme sports video game "STEEP" is now available for the Xbox One, PlayStation 4 and PC.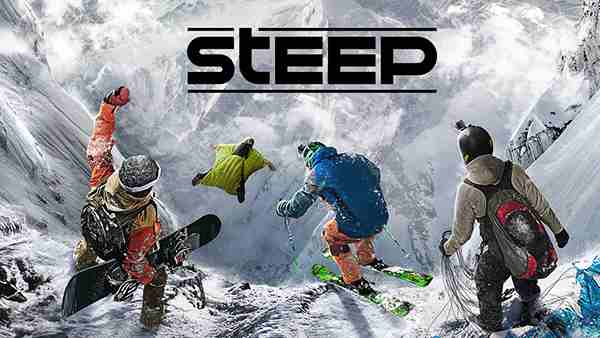 With development led by Ubisoft Annecy, STEEP drops players onto the peaks of mountains with exhilarating experiences that include skiing, wingsuiting, snowboarding and paragliding. Ride a massive open world across the Alps, where the powder is always fresh and the run never ends. The mountain is yours to explore. So strap in, suit up, and drop in. Conquer the world's most epic mountains on skis, wingsuits, snowboards, and paragliders. Ride solo or drop in next to other players to share thrilling, adrenaline-fueled rides. Create your own path through a massive open-world, and share your best custom lines with friends. Prove that you're king of the mountain in unique and spectacular challenges. Capture your most insane stunts and share via social media.
RIDE YOUR WAY - Navigate the open world freely and create your own path as you decide how to explore your massive mountain playground.
Choose between four unique ways to traverse the mountain: ski, wingsuit, snowboard, or paraglide.
Rip through snowy terrains and skies, discover hidden spots, or just take in all the beauty the highlands of the Alps have to offer.
PLAY TOGETHER - Share thrilling, adrenaline-fueled experiences with other players.
Seamlessly meet other players and choose to follow them or play together.
Group up with your friends to pull off the craziest stunts imaginable; you can even mix sports to create wild tricks.
Challenge friends to beat your own personal records, lines, and scores.
CHALLENGES - Prove that you're the king or queen of the mountain by dropping into unique and spectacular challenges that put your skills to the test.
Participate in specific challenges designed for each sport, such as Big Air, Proximity Flying, or Forest Slaloms.
Compete with your friends and the community on any challenge through leaderboards.
Play through epic riding quests to find out about the mountain's secrets and experience unique moments.
SHARE EVERYTHING - Think your exploits are worth sharing? Relive epic moments and challenges, and share replays across social media.
Each time you cut a fresh path down the slopes, you create a one-of-a-kind run that can be watched and experienced by your friends online.
Relive all your most spectacular runs, epic wipeouts, and wildest stunts.
Choose the ideal camera angles, pace, and speeds to create the perfect post and dare the world to do better.
For more information on the game, browse through all of our coverage via the XONEHQ games database, and don't forget to follow us on Twitter, Google+, Facebook and YouTube, for more of the latest Xbox One Release Dates, Upcoming Xbox 1 Games, Xbox 1 Game Trailers, Exclusive High Definition Xbox One Gameplay, Xbox Video Game Screenshots & HD Wallpapers, Xbox Achievements and loads more.
Size: 17.41 GB
Download: here
XONEHQ Games: STEEP
Price: $59.99, € 69,99, £54.99, $99.95 AUD

Most Recent Trailers for STEEP
Rate This Article
Average Score: 3.5




Votes: 2