FlatOut 4: Total Insanity Out Now In The U.S.
Published: Monday, May 01, 2017Tagged: Gaming, Xbox Store, Xbox One,

"Flatout 4: Total Insanity", the hard hitting, fast paced demolition derby style racing video game, is now available for Xbox One in North America.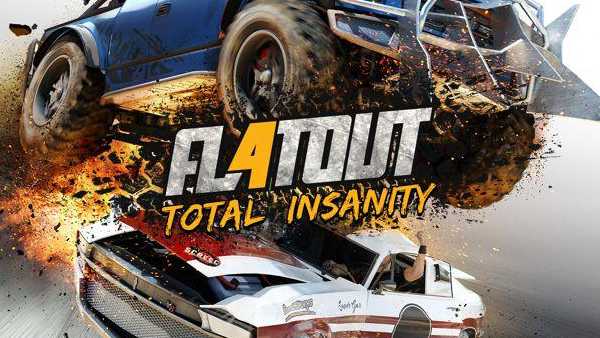 Fans will rejoice as the celebrated series offers bigger, louder, better and more outrageous stunts and collisions. Also, fans of the genre can still enjoy some of the popular classic stunts too, as FlatOut 4: Total Insanity offers something for FlatOut fans both new and familiar. Speed, destruction, awesome crashes, off-the-wall competitions... Experience all the wackiness of FlatOut once again!
Game Features:
10 SPECTACULAR GAME MODES - A non-stop demolition derby in Assault, Carnage and Arena modes, and more!
FULLY DESTRUCTIBLE VEHICLES & ENVIRONMENTS - Unleash the beast within you: demolish your rivals and ravage the decor!
A FUN & VARIED MULTIPLAYER MODE - Every mode is playable online with up to 8 players: take on the wildest drivers in the world!
20 RACES AND 27 VEHICLES Muscle cars, SUV, ice-cream truck - Choose the weapons you will use to destroy everything in your path!
SENSATION OF BREAK-NECK SPEED - The nitroglycerin turbo will have you pinned to your seat!
THE RETURN OF THE LEGENDARY STUNT MODE Golf, Free Kick, Beer Pong - Turn your driver into a weapon of mass destruction and achieve the highest score.
FlatOut 4: Total Insanity includes 45 achievements worth 1000 gamerscore. You can check out the complete list of Xbox One Achievements here.
Developed by Kylotonn Games and published by Big Ben Interactive, "FlatOut 4: Total Insanity" is available for $49.99 USD.
For more information on "FlatOut 4: Total Insanity", check out XBOX ONE HQ's coverage via the Xbox One Games hub and don't forget to follow us on Twitter, Google+, Facebook, YouTube and Pinterest for more of the latest Xbox One News, Xbox Release Dates, New Xbox 1 Games, Achievements, Screenshots, Videos & Game Trailers and much more.

Xbox Store: here
File Size: 6.39 GB
Price: $49.99 USD
Xbox One Games: FlatOut 4: Total Insanity
FlatOut 4: Total Insanity Achievements
Most Recent Trailers for FlatOut 4: Total Insanity
Rate This Article
Average Score: 4.5





Votes: 2