Xbox One X Project Scorpio Edition Now Available For Pre-Order
Published: Monday, August 21, 2017Tagged: Gaming, Hardware, Pre-order, Xbox One, Xbox One X,

Microsoft announced today that the Xbox One X Project Scorpio Edition, the world's most powerful console, is now available for pre-order for $499, £449, €499, CA$599 & AU$649 until supplies run out.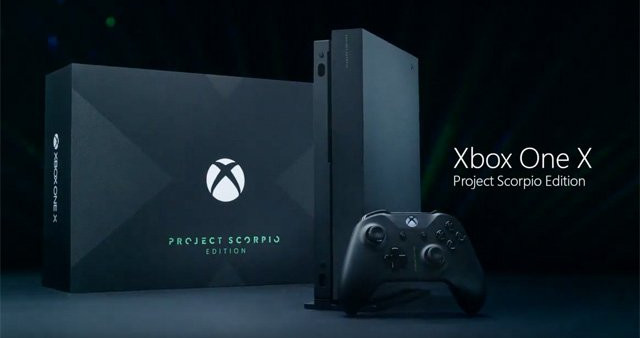 The Xbox One X Project Scorpio Edition features a custom design with the words "Project Scorpio" printed on the console and the controller and we've incorporated a sophisticated and dynamic graphic pattern across the exterior. Fans who have been with us since the very start of Xbox will notice the packaging is inspired by the original Xbox. The Project Scorpio Edition also comes with an exclusive vertical stand so you can choose how to display it in your home.
There is only a limited number of Xbox One X Project Scorpio Edition consoles, and they will only be available as part of this pre-order. Get them now before they're gone forever by pre-ordering from your local retailer, including Microsoft Store or Microsoft.com.
We are counting down to the launch of Xbox One X later this year and look forward to getting the world's most powerful console into the hands of our fans. With 40 percent more power and 60 percent more memory for game developers than any other console, get ready to experience immersive true 4K gaming. Your games play better on Xbox One X and blockbuster titles look great, run smoothly, and load quickly even on a 1080p screen. And excitement and developer commitment for Xbox One X has grown since E3 and, to date, more than 100 new and existing games will be enhanced for Xbox One X to take advantage of its full power.
Xbox One X also works with all your existing Xbox One games and accessories and we're thrilled to welcome it to the Xbox One family of devices joining Xbox One S. For fans looking for the best value in gaming and entertainment, Xbox One S continues to deliver and we just announced two new bundles joining the ranks – the Xbox One S Shadow of War bundles and the Xbox One S Minecraft Limited Edition bundle. Both Xbox One X and Xbox One S are built to take advantage of 4K entertainment, too, and include an Ultra HD Blu-ray player, 4K video streaming and HDR for videos and gaming.
Pre-order Xbox One X Project Scorpio Edition from Best Buy
Pre-order Xbox One X Project Scorpio Edition from Amazon
Watch as Larry Hryb, Xbox Live's Major Nelson unboxes the Xbox One X Project Scorpio Edition.

You have probably not missed that VR is a term started to be used a little here and there. VR stands for Virtual Reality, and nothing is perceived. In fact, the concept has...

Microsoft has announced that the April 2018 Xbox System Update is now rolling out worldwide.Video & DisplayMicrosoft added a bunch of new video features starting...

Bree White, Global Product Marketing Manager on the Xbox Team, shares details about the new Combat Tech Special Edition controller releasing later this month.Last spring, we...
Average Score: 4.83





Votes: 6