RAID: World War II Digital Pre-order And Pre-download Available Now On Xbox One
Published: Monday, September 18, 2017Tagged: Gaming, Pre-order, Xbox One, Xbox Store,

RAID: World War II is now available for digital pre-order and pre-download on Xbox One. Pre-Order now and save 10%!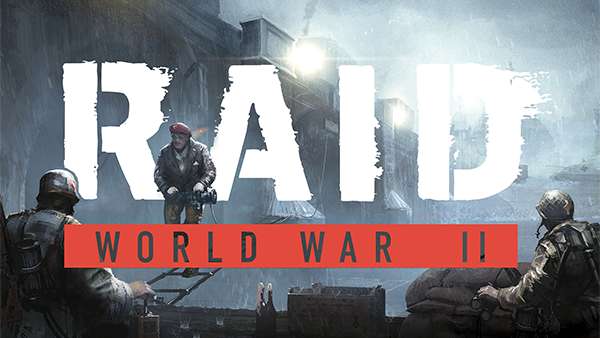 RAID: World War II is an adrenaline-fueled four-player co-op shooter set during the time when the German war machine was still going strong. Four prisoners of war have been freed by Mrs. White and given a chance to redeem themselves. Their objective? By any means necessary stop the Germans and help end the war. Their reward? The chance to steal anything they find.
Take on the role as one of the four misfit members of the RAID gang, Sterling, Rivet, Kurgan or Wolfgang. Shoot and blast your way through Europe using different classes and skills. Customize your weapons using authentic weapon modifications. Your point of contact throughout the war will be Control (portrayed by legendary actor John Cleese). He will send you and the RAID gang on daring missions to execute objective-based raids in iconic locations set across a war-torn Europe.

RAID: World War II Features
CLASSES: Players can choose from four different classes: Recon, Assault, Insurgent, or Demolitions. Each class has their own highly developed skill tree, allowing for various play styles.


WAR CRIES: Each class has its unique War Cry - a powerful ability that can be unleashed to buff yourself or the entire team. For example, if a player activates the War Cry BERSERK, players won't consume ammo for a limited time - so they're free to blast away.


CHARACTER CUSTOMIZATION: Our four heroes are drawn from the main combatants in the European theatre of World War II - Great Britain, USA, Germany and the Soviet Union. Each has its unique look with a fully customizable uniform.


WEAPON MODIFICATIONS: World War II saw the dawn of a whole lot of new weapons that said "bang" in lots of new ways. RAID allows players to play around with these weapons and of course upgrade and customize.


OPERATIONS RAID: offers players the chance to play through extended adventures by undertaking Operations. Operations are a chained series of highly-modified raids, featuring new storylines, unique content and objectives. The risks are greater, but so are the rewards!
RAID: World War II Releases on Xbox One in North America on Tuesday, October 10, 2017 and in Europe and Australasia on Friday the 13th of October, 2017. Pre-Order now and save 10% – Limited Time Offer!
Xbox Store: here
File Size: 7.19 GB
XONEHQ Games: RAID: World War II
Price: $39.99 / £33.19 / € 46,49 / $65.70 AU

RAID: World War II Achievements
Most Recent Trailers for RAID: World War II
Rate This Article
Average Score: 4




Votes: 1