Turok and Turok 2: Seeds of Evil Release Date Confirmed, Digital Pre-Orders Now Available
Published: Monday, February 26, 2018Tagged: Gaming, Pre-order, Xbox One, Xbox Store,

'Turok' And 'Turok 2: Seeds Of Evil' are now available for digital pre-order and pre-download on Xbox One for $19.99/€19,99/£15.99.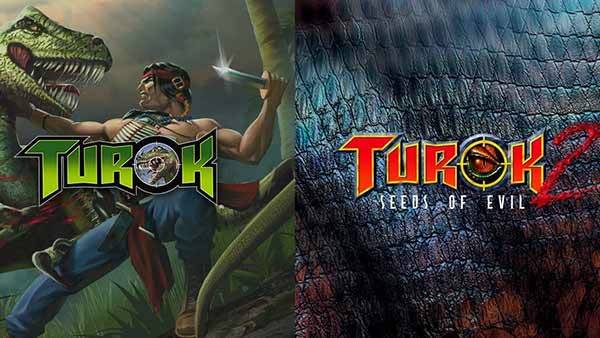 Turok is back and no dinosaur is safe! When it was first released in 1997, Turok introduced gamers to a world teeming with cunning enemies, traps, puzzles and deadly weapons all within a vast 3D environment ready to explore. Now the classic game has been restored and enhanced with a new visual engine and exciting new features to sink your teeth into!
The Lost Land... A world where time has no meaning - and evil knows no bounds. Torn from a world long gone, the time traveling warrior Turok has found himself thrust into a savage land torn by conflict. An evil overlord known as 'The Campaigner' seeks to shred the fabric of time and rule the universe using an ancient artifact known as 'The Chronoscepter'. The Chronoscepter was shattered thousands of years ago in an effort to keep it from falling into evil hands. The Campaigner has constructed a massive focusing array which he plans to use to magnify and pervert the power of the Chronoscepter in order to shatter the barriers between the ages and rule the universe. Turok has vowed to find the eight pieces of the Chronoscepter spread throughout the Lost Land and put an end to The Campaigner's evil plot... To learn more you must enter the world of Turok

Pre-order Turok on the Microsoft Store ($19.99/€19,99/£15.99)
Having defeated the Campaigner, Turok throws the Chronocepter into a waiting volcano to destroy it. Unfortunately the blast awakens an even deadlier force – The Primagen. Once again a Turok is tasked with restoring peace to the land and stopping the Primagen from merging Earth with the nether world.

Pre-order Turok 2 on the Microsoft Store ($19.99/€19,99/£15.99)

Developed by Nightdive Studios, 'Turok' and 'Turok 2' will be available on Xbox One on March 2, 2017. Until then, browse through all of our Xbox coverage via the Xbox Games hub, where we feature Upcoming Xbox Games, release dates, game trailers, achievements and more.