Far Cry 5 Is Out Now on Xbox One, PlayStation 4 and PC
Published: Tuesday, March 27, 2018Tagged: Gaming, Xbox One, Xbox One X, Xbox Store

'Far Cry 5', the fifth game in the award-winning Far Cry series, is now available on Xbox One, PS4 and PC.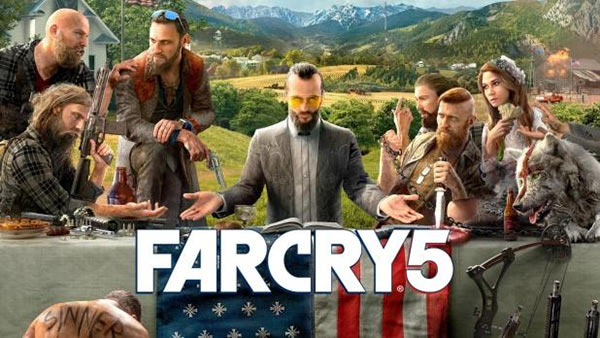 Welcome to Hope County, Montana
Welcome to Hope County, Montana, land of the free and the brave, but also home to a fanatical doomsday cult known as Eden's Gate. Stand up to the cult's leader, Joseph Seed, and his siblings, the Heralds, and spark the fires of resistance that will liberate your besieged community.
This idyllic place is home to a community of freedom-loving people - and a fanatical doomsday cult known as The Project at Eden's Gate. Led by the charismatic prophet Joseph Seed and his devoted siblings, Eden's Gate has been quietly infiltrating every aspect of daily life. When your arrival incites the cult to violently seize control of the region, you must rise up and spark the fires of resistance to liberate a besieged community.
Freely explore Hope County's rivers, lands and skies with the largest customisable weapon and vehicle roster ever in a Far Cry game. You are the hero of the story in a thrilling world that hits back with every punch, and where the places you discover and the locals you ally with will shape your story in ways you'll never see coming.
Spark the fires of resistance against a fanatic cult
Stranded in hostile territory, find strength in the community around you to lead a resistance against a cult taking over Hope County, Montana.
Recruit Guns for Hire from a huge cast of characters. Leverage the special skills of up to 3 allies at a time to turn the tables on The Project at Eden's Gate.
Command specialized Fangs For Hire, animals you can control and command to support any playstyle.
Ally with a Friend For Hire to take down the cult in a two-player co-op experience that extends across the full campaign.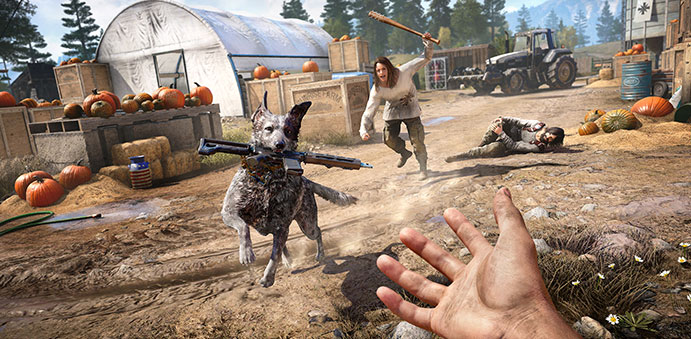 Carve your own path
The freedom to go in any direction – you decide the when, the where, and the how.
From the moment you enter Hope County you have the freedom to tackle the world in any order you choose.
A huge cast of memorable characters shape your story as you ignite the resistance against a cult threat.
For the first time in Far Cry, you are the hero – create your own avatar and customize your character.
A world that evolves
Play your way in a dynamic open world that adapts and reacts to the choices you make.
Raise the Resistance Meter to evolve the world in meaningful ways.
Disrupt the cult's doomsday preparations to draw the Heralds into epic showdowns in the open world.
Your choices affect the world as new gameplay opportunities arise from the chaos.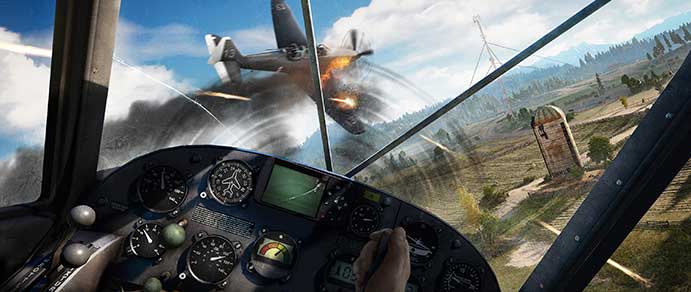 Dynamic toys
Tear up the countryside in iconic American vehicles you can make your own; from muscle cars to big rigs, from ATVs to tractors.
Commandeer a plane to engage cult forces in an epic aerial dogfight or bombing run.
Discover the natural riches of Montana and hunt, fish, and explore every inch.


There are 3 versions of Far Cry 5 available
:
Far Cry 5 ($59.99/€ 69,99/£54.99/$99.95 AU) – This bundle includes the game.


Far Cry 5 Deluxe Edition ($69.99/€ 79,99/£62.99/$115.20 AU) – This bundle includes the game plus the Digital Deluxe Pack (The Big Game Hunter Pack, The Ace Pilot Pack, The Explosive Pack, The Chaos Pack, AR-C Assault Rifle & .44 Magnum Handgun with unique skins).


Far Cry 5 Gold Edition ($89.99/€ 89,99/£69.99/$129.45 AU) – The Gold Edition includes the game, the Digital Deluxe Pack & the Season Pass.
Developed by Ubisoft Montreal and Ubisoft Toronto and published by Ubisoft, Far Cry is available today on Xbox One, PlayStation 4 and PC.
For more of information on "Far Cry 5", check out all of our coverage via the Xbox One Games hub and don't forget to follow us on Twitter, YouTube, Google+, Facebook and Pinterest, for more Upcoming Xbox Games, Xbox Release Dates, Xbox Live Updates, ID@XBOX Games, Xbox Exclusive Games, Games with Gold, Xbox One Native Resolutions & Frame Rates, Video Game Trailers, Xbox Achievements, Xbox Forums, Xbox One X Specifications and News.
Xbox Games: Far Cry 5
Most Recent Trailers for Far Cry 5
Latest Far Cry 5 News & Rumors
A bunch of new games are coming to Xbox Game Pass (@XboxGamePass) for Cloud, Console and PC in June! See the list of upcoming games and the dates they'll be released on...

Xbox Live Gold and Xbox Game Pass Ultimate (@XboxGamePass) subscribers get to play Far Cry 5, Unturned and Bee Simulator for free this weekend. All three (3) games are...

Microsoft added 74 new FPS boosted games for Xbox Series X/S owners this week, bringing the total up to 97 games. Check out the list of FPS boosted Xbox games and learn how...
Rate This Article
Average Score: 4.55





Votes: 9