Just Cause 4: World Exclusive Tornado Gameplay Reveal
Published: Monday, August 20, 2018Tagged: Gaming, Pre-order, Xbox One, Xbox One X,

Square Enix and Avalanche Studios have just released brand new, exclusive gameplay from JUST CAUSE 4 (@JustCause). Check out the new video and then browse through all of our JUST CAUSE coverage on XONEHQ.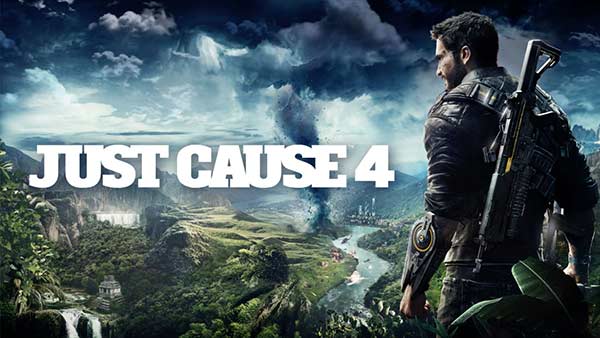 Set in the fictional South American World of Solis, JUST CAUSE 4 takes the series incredible destruction and unique physics to a whole new level with the introduction of Extreme Weather. Rico Rodriquez returns with his trademark parachute, wingsuit and of course, grapple hook, which is now massively enhanced and fully customizable.

This new video highlights the sheer power and scale of one of the 4 unique, Extreme Weather simulations in JUST CAUSE 4, the breath-taking Tornado. Players will experience fully physicalized, gigantic Tornados rip through the landscape, send huge pieces of debris spiralling through the air and tear airplanes out of the sky. Once in its path, the trajectory of every object is being calculated in real-time, opening up unique and brand new gameplay opportunities only available in JUST CAUSE 4.
Check out JUST CAUSE 4's new video entitled Tornado Gameplay Reveal.

Rico's grappling hook makes a return in JUST CAUSE 4. Now enhanced with new functionality and fully customisable, it is the most powerful and creative tool the player has ever had. This video highlights some of these key new features including the ability to remotely attach multiple boosters and airlifters to any object in the game.
Developed by Avalanche Studios and published by Square Enix, "JUST CAUSE 4", a landmark entry in the series, releases December 4th 2018 on Xbox One, PlayStation 4 and PC.
Xbox Games Hub:
JUST CAUSE 4
Official Site:
https://justcause.square-enix-games.com/
Most Recent Trailers for Just Cause 4
Latest Just Cause 4 News & Rumors
Microsoft has confirmed that four new games are coming to Xbox Game Pass (@XboxGamePass) in March. With over 100 great games for one low monthly price, plus...

The wait is over - 'Just Cause 4', the fourth game in the Just Cause (@JustCause) series and the sequel to 2015's Just Cause 3, is now available for Xbox One, PS4 and PC via...

Avalanche Studios released a new expansion pass teaser trailer for Just Cause 4, offering players a taste of what to expect when Demons, Dare Devils and Danger launches in...
Rate This Article
Average Score: 4.3




Votes: 10