LEGO DC Super Villains is Out Now on Xbox One, PS4, Nintendo Switch and PC
Published: Tuesday, October 16, 2018Tagged: Gaming, Xbox One, Xbox Store,

LEGO DC Super Villains (@LEGODCGame) is now available on Xbox One, PlayStation 4, Nintendo Switch and PC in North America.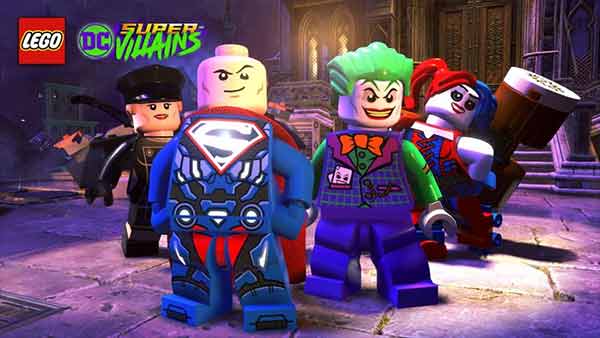 Embark on an all-new DC/LEGO adventure by becoming the best villain the universe has seen. In LEGO DC Super Villains, players create and play as an all-new super-villain throughout the game, unleashing mischievous antics and wreaking havoc in an action-packed story.
Set in an open world experience within the DC universe, the Justice League has disappeared, leaving Earth's protection to their counterparts, who have proclaimed themselves as the "Justice Syndicate". It's up to you and a crazy group of misfits to uncover the intentions of Earth's new, strange, wannabe superheroes. Joined by renowned DC Super-Villains: The Joker, Harley Quinn, and countless others from the Injustice League, players will set out on an epic adventure.
"Players will be captivated by the story and adventure, embarking on hours of content including story levels, quests, recruiting and unlocking other villain characters to join you, and exploring the hidden secrets scattered throughout Gotham and Metropolis," said Phillip Ring, Executive Producer, TT Games Publishing.
"DC has some of the most popular Super-Villains in the world and it's exciting to see these characters call the shots in this new game," said Ames Kirshen, Vice President, Interactive & Animation, DC Entertainment. "Fans will love teaming up with The Joker™, Harley Quinn™, Lex Luthor™ and host of other DC characters as they play through this light-hearted story set in iconic DC locations."
"Whether you're playing solo or with a partner in crime for two-player, local co-op, LEGO DC Super-Villains brings the family-friendly fun, with a playful, villainous twist that both new and existing players will enjoy," said Sean McEvoy, VP Digital Games, The LEGO Group.

The Deluxe Edition features the main game content, Season Pass content, early access to the DC Super-Villains: TV Series DLC Character Pack, and an exclusive LEGO minifigure, Lex Luthor Superman. Digital consumers will receive the Justice League Dark Character Pack, inspired by the comic book series Justice League Dark. For players who want to further their adventures beyond the main game, the LEGO DC Super-Villains Season Pass will be available separately. The Season Pass provides players with exciting add-on game content inspired by a wide range of DC movies, live action and animated TV series, and comics. The Season Pass will feature six Level Packs and four Character Packs, including two Aquaman Movie Level Packsinspired by the upcoming Warner Bros. Pictures film, Aquaman, in theatres nationwide on 2nd December and two Shazam! Movie Level Packs inspired by the upcoming Warner Bros. Pictures film Shazam! in theaters nationwide April 2019.
Developed by TT Games and published by Warner Bros. Interactive, LEGO DC Super Villains is available today, October 16th, 2018, in North America. The game launches everywhere else on the 19th of October, 2018.
For more information on the game, browse through our Xbox coverage including all of the latest Xbox One Screenshots & Wallpapers, XboxAchievements, video game trailers, news & rumors, and more.
Price: $59.99 USD
File Size: 17.99 GB
Microsoft Store: here
LEGO DC Super Villains Achievements
Most Recent Trailers for LEGO DC Super Villains
Latest LEGO DC Super Villains News & Rumors
The LEGO Games Bundle, a brand new bundle comprised of four games including, Lego Batman 3: Beyond Gotham, Lego DC Super-Villians, The Lego Movie Videogame and The Lego Movie...

liThe Young Justice animated series level and character DLC for LEGO DC Super-Villains: Young Justice Animated Series is now available on Xbox One, PlayStation 4, Nintendo...

The DC Movie Character Pack for LEGO DC Super-Villains is now available on Xbox One, PlayStation 4, Nintendo Switch, and Windows PC.The new pack features iconic DC Super...
Rate This Article
Average Score: 4.5





Votes: 4