May 2014 Xbox One Update Brings New Audio Controls
Published: Sunday, May 04, 2014Tagged: Xbox Live, Xbox App, Xbox One

Microsoft has announced that they are beginning to roll out another new update for Xbox One users in the early access program this week.

Feature highlights for this next phase of the early access program include a new sound mixer for snapped apps, chat volume controls when using Kinect and the option to help us improve speech recognition. You can also take this update on demand as soon as it becomes available if you'd like


Sound Mixer for Apps with Snap and Volume Controls When Using Kinect with Chat

We've received great feedback from fans asking for more control over audio levels and background sound. As a result, under Settings we've added two new features for controlling your audio options. With the new
Sound mixer, you'll be able to control the volume levels of two apps when you're using Snap letting you decide which app is louder. In this same section, you'll also be able to control the volume levels when you're using Kinect for chat.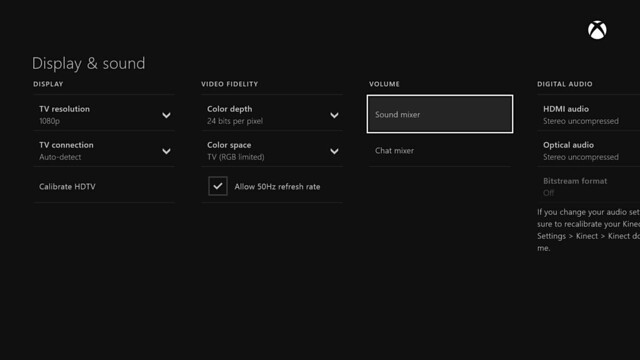 Opt-In to Help Improve Speech Recognition

Being able to control your Xbox One with voice commands can be a magical moment and we want to continue making this great for all Xbox One owners worldwide. The more voice samples we have to input into our algorithms, the better and more responsive Xbox One can be to our fans. If you want to help to make voice and speech improvements for Kinect even better, you can opt-in to a speech data collection. Under Settings, then Privacy & Online Safety, go to Customizing privacy and online safety and set Share Voice Data to Allow. This is completely optional and all voice data shared via this setting will be used for product improvement only.
Take the Next System Update When You Want

You'll now also be able to take this next system update as soon as it's available if you want. When this update is made available, you'll find the option under Settings, then select System update as shown below.
This Friday, October 7, some of the biggest names from the worldwide games industry, including the likes of Xbox, Supercell and EA, are uniting behind SpecialEffect, the...

Jörg Tittel, writer-director of the highly anticipated console, VR and PC game The Last Worker, announced a collaboration with one of the greatest and most influential...

Firestoke and developer Sunna Entertainment announced that they'll be bringing 2D run 'n' gun platformer Planet Cube: Edge to consoles and Steam in early 2023. Check...