Silver Dollar Games Unleashes 'One Finger Death Punch' Onto PAX East 2019
Published: Tuesday, March 26, 2019Tagged: Gaming, ID@Xbox, Xbox One,

Silver Dollar Games has sneaked into PAX East to Palm Strike unsuspecting attendees with its highly-anticipated sequel, One Finger Death Punch 2 (OFDP2). Those who take pride in their otherworldly reflexes are encouraged to appear at the Indie MEGABOOTH (booth #14084) where they can get a taste of the fast-paced action as they help the chosen one combat wave after wave of enemies.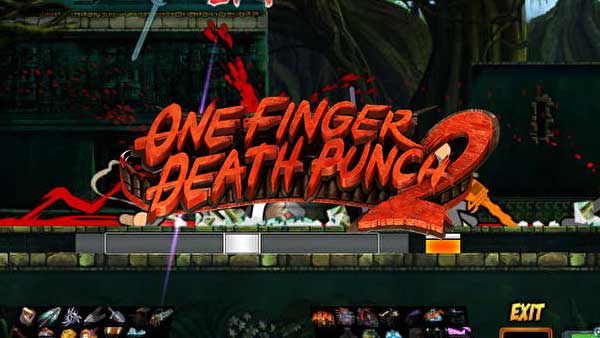 "Technically, we didn't "sneak" into PAX East as we had to register for the show, set up our demo stations, and announce via press release where we're going to be and what we're doing. This is probably the least stealthy method of attending a convention ever," says Silver Dollar Games' Jon Flook. "Also, we're not really going to Palm Strike anyone who visits the booth. The only thing you'll leave with after visiting us at the Indie MEGABOOTH is a code for an early access copy of One Finger Death Punch 2."
Using advanced martial arts techniques, various weapons, deadly skills and surroundings, the chosen one can Eagle Claw their way through the tutorial and then Plum Flower Punch a handful of levels from the game's first map. The PAX East demo serves as a dumpling-sized appetizer to the full OFDP2 experience. Couch-potato combatants can expect over 400 levels, 15 level types, 4 endless survival modes, and two gauntlet run game modes all while helping the chosen one learn a total of 26 new skills.
Let's take a look at the trailer for One Finger Death Punch 2 now:
One Finger Death Punch 2 is releasing on Steam, Humble Store, and Kartridge on April 15th and is expected to launch on Xbox One, PlayStation 4, and Switch in winter 2019.

For more Xbox One News, upcoming Xbox One games and updates, follow @XONEHQ on Twitter, Facebook and YouTube, download the free Xbox app for Android and until next time, game on!
Official Site: OFDP2.com
One Finger Death Punch 2 Achievements
Latest One Finger Death Punch 2 News & Rumors
One Finger Death Punch 2 is available today on Xbox One and Nintendo Switch while also expanding its PC audience with its GOG availability.In One Finger Death Punch 2,...

One Finger Death Punch 2 releases for Xbox One, Nintendo Switch, and GOG on February 26th.In One Finger Death Punch 2, players take on the role of the chosen one (AKA white...
Average Score: 4.2




Votes: 5