New XBox Preview Alpha Skip Ahead Ring 1910 Update is rolling out now
Published: Friday, July 12, 2019Tagged: System Update, Xbox Live, Xbox One, Xbox One X,

The latest 1910 system update for Xbox One Preview Alpha Skip Ahead Ring Members (Build: 191018363.7014.190709-1920) is now rolling out.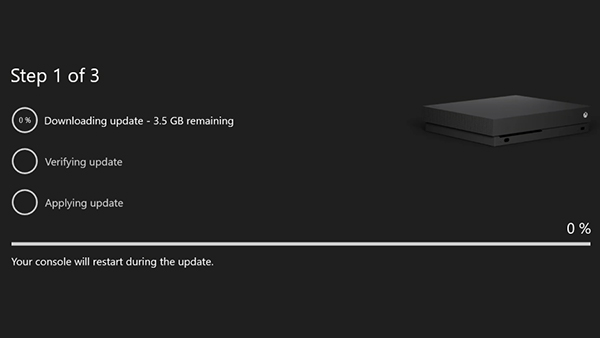 Xbox Update Details
OS version released: 19H1_RELEASE_XBOX_DEV_19H2HOLD_191018363.7014.190709-1920
Available: 2:00PM PDT 7/12/19
Mandatory Date/Time: 3:00 AM PDT 7/13/19
Fixes
Controllers
A new version of controller firmware has been released for certain controller models. Users should be prompted to update the controller automatically when it is connected to the console. You can also go to Settings>Kinect & devices>Devices & Accessories with the controller connected, then select the ellipsis button to see if a firmware update is available.
System
Various stability fixes to the system.
Known Issues
Audio
Users who have Dolby Atmos enabled and console display settings set to 120hz with 36 bits per pixel (12-bit) are experiencing loss of Dolby Atmos audio in some situations.

Workaround: Disable 120hz or set Video Fidelity to 30 bits per pixel (10-bit) or lower.
Guide
Users are reporting being unable to see Profile information in the Guide with the Light Theme enabled.

Workaround: Use either the Dark Theme or High Contrast Light/Dark Theme.
Profile Color
Sometimes users may encounter the incorrect Profile color when powering on the console.
Supraland is now available for Xbox One and included with Xbox Game Pass.Supraland is the ultimate "sandbox" adventure and offers players a fresh take on puzzles,...

Indie 2.5D Shoot 'em up "Grood" is now available for digital pre-order and pre-download from the Microsoft Store for Xbox One. Unleash fire upon machine invaders in this...

Ludo is a modern version game of the royal game which was once known as Pachisi. Earlier, kings and queens would play the game between them ,and it was often a source of...
Average Score: 4.42




Votes: 7