Gears POP! is now available to download on iOS, Android and Windows 10 PC!
Published: Friday, August 23, 2019Tagged: Free, Gaming, Xbox Store,

Gears POP! is available to download right now on Apple (iOS 10 and newer), Android (OS 4.4 and newer), and Windows (x64) PC.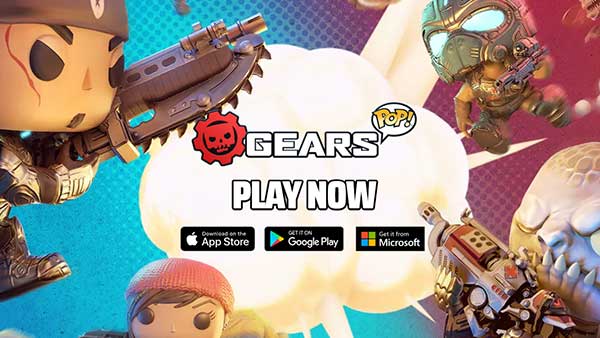 Gears of War & Funko Pop! have joined forces to deliver you explosive real-time multiplayer battles in the Gears universe.
Mix-and-match an army from iconic Gears of War heroes and villains, each designed with distinctive and collectible Funko Pop! vinyl design. Once you've assembled your squad, lead them to victory against other collectors in fast-paced tactical cover-combat!
GAME FEATURES
Strive for supremacy on iconic Gears battlefields in real-time PVP assaults.
Over 30 Gears of War characters are ready for your orders, all brought to life from authentic Funko Pop! designs.
Build your squad the way you want, mixing and matching COG & Locust units like never before.
Create a custom Funko Pop! avatar to represent YOU on the battlefield.
Turn the tide of battle with powerful 'Ultimate' abilities, including the devastating Hammer of Dawn.
Battle through the arenas and into big leagues to challenge the best players in the world and fight for even better rewards.
Test your mettle against AI opponents to try out new squads and hone your strategies.
A network connection is required to play.
Price: Free
Official Site: https://gearspop.com
Download: Windows x64 | Apple iOS | Android
This year is shaping up to be one of the biggest years for gaming in recent memory. With dozens of great games on the way, there is a lot to look forward to. The wait for...

Player Unknown's Battlegrounds is one of the most complicated battle royal games on the market. Every player should invest a lot of their time in learning, strategizing...

School and university assignments can stress you up especially when there are deadlines to meet. Each assignment requires you to do research, write, edit and proofread before...
Average Score: 4.2




Votes: 5