Gears POP! is now available to download on iOS, Android and Windows 10 PC!
Published: Friday, August 23, 2019Tagged: Free, Gaming, Xbox Store,

Gears POP! is available to download right now on Apple (iOS 10 and newer), Android (OS 4.4 and newer), and Windows (x64) PC.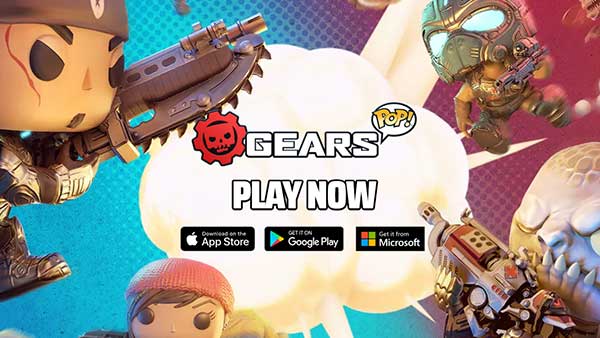 Gears of War & Funko Pop! have joined forces to deliver you explosive real-time multiplayer battles in the Gears universe.
Mix-and-match an army from iconic Gears of War heroes and villains, each designed with distinctive and collectible Funko Pop! vinyl design. Once you've assembled your squad, lead them to victory against other collectors in fast-paced tactical cover-combat!
GAME FEATURES
Strive for supremacy on iconic Gears battlefields in real-time PVP assaults.
Over 30 Gears of War characters are ready for your orders, all brought to life from authentic Funko Pop! designs.
Build your squad the way you want, mixing and matching COG & Locust units like never before.
Create a custom Funko Pop! avatar to represent YOU on the battlefield.
Turn the tide of battle with powerful 'Ultimate' abilities, including the devastating Hammer of Dawn.
Battle through the arenas and into big leagues to challenge the best players in the world and fight for even better rewards.
Test your mettle against AI opponents to try out new squads and hone your strategies.
A network connection is required to play.
Price: Free
Official Site: https://gearspop.com
Download: Windows x64 | Apple iOS | Android
Browsers have grown in popularity and turnover over the last decade to become its own branch of the gaming business, comparable to their other relatives in terms of...

Fursan al-Aqsa: The Knights of the Al-Aqsa Mosque, an independent game which addresses the Israel x Palestine conflict from a Palestinian perspective, will be available for...

Thunderful Games has just announced that it has acquired Madrid-based developer, Stage Clear Studios SL in a deal worth up to 2.5 million euros. Brjann Sigurgeirsson, CEO of...
Average Score: 4.2




Votes: 5