Turtle Beach's Holiday 2019 lineup for Xbox One, PS4 and PC includes Wireless Headsets, Mice, and Keyboards
Published: Monday, December 02, 2019Tagged: eSports, Gaming, Xbox Accessories, Xbox Hardware, Xbox One, Xbox One X

Turtle Beach's Holiday 2019 Line-up Includes the Strongest Assortment of Headsets for Every Gamer, Including the New Standalone Elite Pro 2 Pro Performance Gaming Headset, Plus ROCCAT's Powerful PC Gear to Take Your Gaming Battle Station to the Next Level.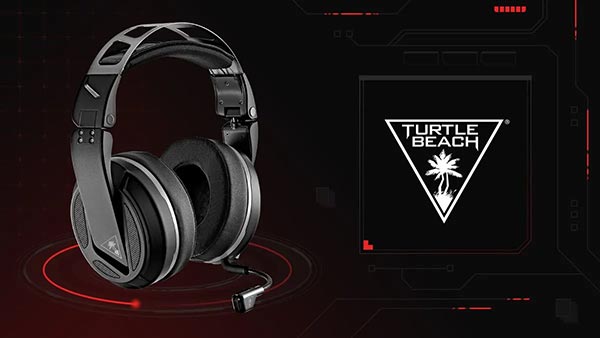 Turtle Beach's impressive 2019 line-up features new and innovative, award-winning gaming headsets and PC accessories designed to help gamers play their best. Let's take a look at some of the gear.
The ultimate high-performance wireless headset for PC gamers and streamers alike, featuring powerful 50mm Nanoclear™ speakers, a high-sensitivity microphone, 30-hour battery life and Turtle Beach's new Control Studio™ software with Waves Nx® 3D Audio. The Elite Atlas Aero is compatible with Windows 10 and delivers unmatched PC audio performance. Available for a MSRP of $149.95
Now available as a standalone headset, the Elite Pro 2 for Xbox One and PlayStation 4 delivers elite esports performance and unmatched comfort on any platform and is ideal for serious gamers, aspiring and pro players. The Elite Pro 2 is built for Xbox One and PS4, and also works great with Nintendo Switch, PC and mobile devices. Available for a MSRP of $129.95.
Bring ultimate esports performance and comfort to every match with Turtle Beach's highly-acclaimed Elite Atlas Pro Performance PC Gaming Headset. The Elite Atlas is built for PC, and also works great with Xbox One & PS4™, Nintendo Switch™, and mobile devices. Available for a MSRP of $99.95.
The Stealth 700 is the premium wireless gaming headset or Xbox One and PS4™ you've been waiting for, with features like Windows Sonic surround sound on Xbox One and DTS™ 7.1 Surround Sound on PS4™, Active Noise-Cancellation, Bluetooth® connectivity with app-based settings, and so much more. Available for a MSRP of $149.95.
Wireless surround sound on Xbox One and PS4™ that doesn't break the bank. The Stealth 600 offers powerfully immersive surround sound, a high-sensitivity flip-to-mute mic, Superhuman Hearing®, unmatched comfort, and a variety of additional features. Available for a MSRP of $99.95.
The Recon Spark is a wired multiplatform gaming headset with a standout white and lavender colorway that delivers comfort-driven performance with powerful sound and crystal-clear chat on Xbox One, PS4™, Nintendo Switch™, PC, and mobile devices. Available for a MSRP of $49.95.
Built for your next victory on any platform, the Recon 70 gaming headset is compatible with all gaming platforms and features a lightweight and comfortable design, high-quality 40mm over-ear speakers, and a high-sensitivity flip-up mic. Available in a variety of colors for a MSRP of $39.95.
Vulcan Series Mechanical PC Gaming Keyboards – Feel the Impact
Winner of the 2019 iF Design Award for its product category and recently named a "Best Gaming Keyboard" in Wired, the Vulcan 120 AIMO series gaming keyboards are precision gaming tools that let you sense their performance from the first glance and first key stroke. Developed following the renowned principles of German design and engineering, it is the best keyboard ROCCAT has ever built. Available for a MSRP of $159.99.
Kain Series PC Gaming Mice – One Click Ahead
Born from the vision of creating the best "click" and aimed to deliver maximum precision performance, the Kain series mice feature ROCCAT's innovative Titan Click mechanism making it one of the fastest and most responsive series of PC gaming mice available. Available for a MSRP starting at $49.99 for Kain 100 AIMO, $69.99 for the upgraded 16k DPI Owl-Eye sensor variant Kain 120 AIMO, and $99.99 for the wireless Kain 200 AIMO.
For the latest information on Turtle Beach products, accessories, and stories, check out the official Turtle Beach website. For more information on Turtle Beach's line-up of high-quality, German-engineered PC gaming accessories, visit https://roccat.org.
The new generation of consoles is now here, and many have already sold on their previous console and bought the newest option on their respective platform. Upgrading is...

The British Esports Association is proud to announce that it will host the second annual World Esports Day, due to take place on Saturday 23rd October 2021 and bring people...

The Xbox is among the most popular and in-demand gaming consoles in the world. The much-anticipated Xbox Series X and Series S consoles that were released recently brought...
Average Score: 4.66





Votes: 18