Wreckfest Holiday Update and Modified Monsters Car Pack is out today
Published: Wednesday, December 18, 2019Tagged: Xbox DLC, Xbox Live, Xbox One, Xbox Store

Vroom-Vroom-Vroom! Celebrate Christmas early with Wreckfest's holiday 2020 update as well as the new car pack DLC.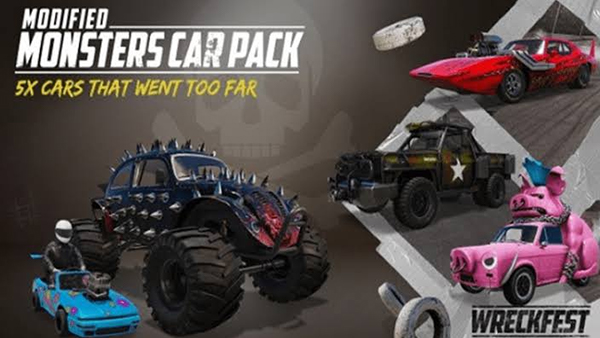 The Modified Monsters Car Pack brings you a collection of five backyard built vehicles with a mix that will make you go hog-wild! Strike fear with the crazy monster truck, or head into battle in a fully loaded military pickup! Burn rubber like a pro with the dragster, or try the hilarious mini racing car for size! And finally, try taking the pig car out for a spin - enjoy the roast! The Modified Monsters Car Pack is out today on all platforms for $3.99 | €3.99 | £3.29.

The Modified Monsters Car Pack is part of the Season Pass, which is including 20 new cars, 20 special roof decorations and additional car customizations like armor, rims and more. This new content will be released step by step, along with free content updates.

Wreckfest's holiday update contains the following additions
Highlights:

Added two new tracks: Hellride & Vale Falls Circuit
Added track voting to multiplayer
Added player hosted public servers
Added car customization to multiplayer lobby
Added visualisation for cars that just have been reset
Ragdolls can now be reset after driver was ejected
Added support for DLC Modified Monsters Car Pack
Various performance improvements and bugfixes
Detailed:
[Game version: 1.20]
CONTENT
Added two new tracks: Hellride & Vale Falls Circuit
Added support for DLC Modified Monsters Car Pack
MULTIPLAYER
(XB1/PS4) Users can create a public lobby which is visible in the server browser for everyone and has a maximum cap of 16 players
It's now possible to change (and purchase) vehicle upgrades and paint job directly in the lobby
Implemented track voting. If voting is enabled, clients vote on the next event after they're back in the lobby after event results, choosing from previous event again, or one of two other events from the current rotation
Improved prediction precision of suspension geometry and steering, enhancing gameplay experience especially with high latency
(PC) Voting can be enabled and disabled in the server config (please see the example config for more information)
(PC) A dedicated server can be now excluded from being joined by users entering Quick Match by using "exclude_from_quickplay=0" server setting
(PC) Client is no longer kicked out of multiplayer when connection to Steam is lost
GAMEPLAY
Ragdolling no longer results in the player being wrecked; instead, the ragdoll can be reset back in the vehicle by using the reset button
A vehicle that has just been reset is now visualized in ghost mode
Limousine car is now slightly weaker
Chase camera now avoid clipping into vehicles and zooms closer whenever a vehicle is right behind the player to make sure the view is not obstructed
Camera no longer snaps into a position due to a bottom collision to the car
Transitioning into and out of camera look-around mode is now seamless
Backfire pop now works on AI and remote cars as well
The wheels from Steel & Wheels DLC now have correct physical properties including mass
The window bars from Steel & Wheel DLC are now correctly hidden when using the cockpit camera
Roadslayer window mesh now has the correct weight
Improved Sofa Car handling
USER INTERFACE
Reset button key is now correctly hidden while holding reset button.
High ping warning message is no longer stuck on the screen after leaving multiplayer.
Quit prompt is now correct cleared after the event starts in case it was open in lobby.
Added a slight delay to the end of the Last Man Standing so that's it not as abrupt.
SYSTEM
Various stability and performance improvements.
On Xbox One X and PS4 Pro, the title automatically renders in 4K or HD resolution depending on the resolution of the attached display.
The game no longer sporadically crashes to "Out of Index Buffer Memory" during multiplayer.
The game no longer crashes when equipping "Racing Wing" on the Warwagon while trunk lid has been removed by another upgrade.
(XB1) Steering wheels are now correctly reactivated, making it unnecessary to unplug the device and then plug it back in.
(PC) The game no longer crashes to "Could not open file for writing: save/settings.conf" when settings file is invalid.
(PC) The game no longer crashes upon launching when certain input devices are plugged in.
Implemented wheel hub collisions.
For more future news and information on 'Wrestfest', follow @XONEHQ on Twitter, YouTube, Facebook and Pinterest, download the free XBOX app for Android and until next time, game on!
Most Recent Trailers for Wreckfest
Latest Wreckfest News & Rumors
THQ Nordic's 10th Anniversary Xbox Store Sale is live from September 14 to September 27 featuring huge savings on SpongeBob SquarePants, Destroy All Humans, Biomutant,...

Microsoft has confirmed the next set of games releasing on Xbox Game Pass for Console, Android and PC (@XboxGamePass) throughout February. See the list of titles and the...

Starting today and running until Sunday, August 23rd, Xbox Live Gold and Xbox Game Pass Ultimate members get to play Wreckfest, F1 2020 and Overwatch: Origin Edition on Xbox...
Rate This Article
Average Score: 4




Votes: 8