Games Coming to Xbox Game Pass for Android, Console and PC in September
Published: Monday, September 14, 2020Tagged: Cloud Gaming, Gaming, ID@Xbox, Xbox Game Pass, Xbox One, Xbox Store,

Check out the entire list of upcoming titles coming to Xbox Game Pass (@XboxGamePass) for Android, Console and PC in September. If you're not an Xbox Game Pass member yet, you can get your first month for just $1.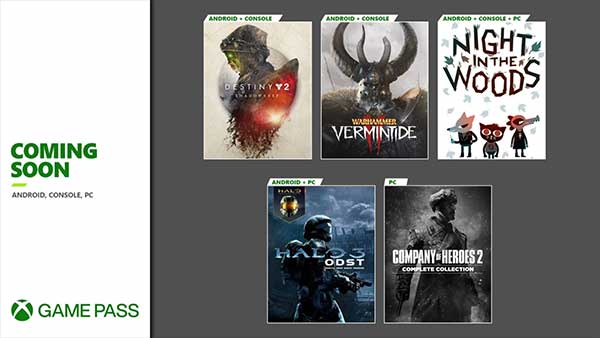 September 17
Company of Heroes 2 (PC)
The follow-up to the highest rated RTS of all time, Company of Heroes 2 is an acclaimed blend of strategy and tactics will test players' knowledge of real-world combat. Now with five armies included to play with in multiplayer and two single-player campaigns. Cover, line of sight, armor, and fully destructible environments all must be considered to lead your troops to victory
September 22
Destiny 2: Shadowkeep & Forsaken (Android & Console)
Dive into the world of Destiny 2 to experience responsive first-person shooter combat filled with stylish finishers and devastating Super abilities. Create your Guardian and explore the mysteries of the solar system while collecting powerful gear to customize your look and playstyle. Brave challenging co-op missions, compete with other Guardians in a variety of PvP modes, and experience a cinematic sci-fi story throughout both the Forsaken and Shadowkeep expansions. You decide your legend.
Halo 3: ODST (Android & PC)
Play as an Orbital Drop Shock Trooper (ODST) and explore the war-ravaged streets of New Mombasa as you attempt to piece together the Covenant's motivations for invading the city. As an ODST, you don't have the firepower or the overshields to go head-to-head with Elites, Brutes, and Hunters – so use stealth and hit-and-run tactics to eliminate threats and sneak behind enemy lines.
That's not all though, as ODST Firefight is joining The Master Chief Collection on console and PC for the first time, with online matchmaking, dedicated servers, and new custom game modes! Grab some friends and hop into the fan-favorite mode as you take out wave after wave of Covenant invaders across 10 legacy maps.
September 24
Night in the Woods (Android, Console, PC) ID@Xbox
Join college dropout Mae Borowski as she returns home to the crumbling former mining town of Possum Springs, seeking to resume her aimless former life and reconnect with the friends she left behind. But things aren't the same. Home seems different now and her friends have grown and changed. Leaves are falling and the wind is growing colder. Strange things are happening as the light fades.
Warhammer: Vermintide 2 (Android & Console) ID@Xbox
Sequel to the critically acclaimed Warhammer: End Times – Vermintide. Fight together with your friends against the forces of Chaos and Skaven in this epic 4-player co-op game set in the Warhammer Fantasy Battles world. Vermintide 2 expands the intense first-person combat with a brand-new enemy faction, 15 new career paths, talent trees, new weapons, an improved loot system, and more.
For future Xbox Game Pass news, upcoming Xbox Games, release dates and more, follow @XONEHQ on Twitter, YouTube, Pinterest and Facebook, check out the free XBOX app for Android, and until next time, game on!
Most Recent Trailers for Destiny 2
Latest Destiny 2 News & Rumors
European fashion brand ARK/8, specialists in high-end clothing, accessories and jewellery inspired by cyber-culture and the world of video games, announced the launch its...

Bungie has announced Season of the Chosen, the newest season in Destiny 2, will kick off on February 9th and run until May 11th. Players will enjoy new Strikes, earn new...

The year 2020 proved to be quite the time for Destiny 2 to make its much-awaited comeback. Apart from the success of Beyond Light and its release on next-gen consoles,...
Rate This Article
Average Score: 5





Votes: 1