World of Tanks Update 1.11.1 Adds New Sub-branch Of Italian Heavy Tanks And More
Published: Monday, January 25, 2021Tagged: Gaming, Windows, Xbox DLC, Xbox Live, Xbox One, Xbox One X, Xbox Series X|S, Xbox Store

Update 1.11.1, the first World of Tanks update for 2021, brings a new sub-branch of Italian heavy tanks with an improved autoreloading mechanic to the game. The updated Platoon system will allow you to find gaming buddies easier (without being limited to friends and contacts), and a few interface improvements make the gameplay even more enjoyable.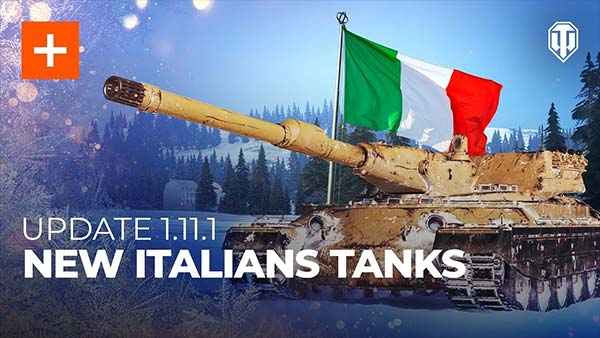 Take high-tier Italian heavies for a spin, and check out the Platoon 2.0 system with new features that will help you search for platoon mates right from the comfort of your Garage. We're also refining in-game interfaces and adding some of the best features from popular mods to World of Tanks.
The new Italian heavy branch begins with the Tier VII Carro d'assalto P.88 and consists of four vehicles with great gun depression angles, well-armored turrets, and stylish exteriors. The top animal in the pack, the Tier X Rinoceronte ('Rhinoceros'), reminds us that Italy is famous for its automotive design traditions. A distinctive feature introduced with the new sub-branch is the improved autoreloading mechanic. As well as being able to choose between firing intermittent shots or salvos, with Tier VIII–X Italian heavies you get a rebate (up to 50%) for the reloading time of your next shell—if you had to shoot just before an extra round would be fully loaded into the clip.
Along with the new branch, four sets of battle missions are being introduced, each one dedicated to a separate tank in the sub-branch and giving out an Ancient Roman-themed emblem, inscription, and decal as rewards, with the Rinoceronte set also yielding the "Testudo Formation" 2D style. The style fits Italian vehicles only, and all other customization elements can be applied to any vehicle. Each mission set is to be completed by its 'own' new Italian heavy, but all of them are also doable in the Rinoceronte or in the Tier VIII Premium tank, the Bisonte C45.
"Around 3 years ago, in May 2018, we revealed the Italian tech tree, with Gianluigi Buffon as an ambassador," says Max Chuvalov, World of Tanks Publishing Director. "The players spent some time mastering the new mechanic, and they really liked the Italian tanks. Now we're adding new researchable vehicles that not only complement the Italian tree, but bring their own distinctive features, in order to make the experience even more diverse and exciting. Take these awesome machines for a spin and enjoy the highly-tactical gameplay!"
Also coming with Update 1.11.1 is the Platoon 2.0 system. Available for Random Battles, it allows you to find battle buddies with ease: it's fully automated, and the search can be performed using filters you apply. Moreover, you can team up with a friend the old-fashioned way and find a third partner using the new system if you want, and once the Platoon is complete, you'll see the allied vehicles side by side with your current ride in your Garage.
The interface improvements that will arrive along with the update continue the tradition of integrating the best solutions from popular UI mods into the client. In the game settings, you can now activate such options as the Proximity spotting circle (showing the radius of 'unconditional' spotting on the mini-map) and a repair timer for damaged vehicle modules.
Watch the official Update 1.11.1 trailer!
Fight tactically in the new Italians alongside your new buds, earn the new Roman style and don't let any brutes stab you in the back! If you need more info on Update 1.11.1, take a look here.
Want more of the latest Xbox news, upcoming Xbox games and release dates? Follow @XONEHQ on Twitter, Facebook and YouTube, download the free XBOXONE-HQ.COM app for Android and until next time, game on!
World of Tanks Achievements
Most Recent Trailers for World of Tanks
Latest World of Tanks News & Rumors
For the very first time in the series' history, World of Tanks will be bringing modern tanks to the battlefield – introducing a new way to play for over 21 million...

The World Of Tanks Legend Of War Pack is now available for Xbox One and Xbox Series X|S.Are you prepared to take control of the battlefield? Help aide your fight to become...

Holiday Ops 2020 is on its way to World of Tanks (@WorldofTanks) at full speed! This year you'll again find a Festive Garage with decorations, lots of nice gifts and bonuses,...
Rate This Article
Average Score: 4.5





Votes: 2