Dark Nights with Poe and Munro FMV Indie Game Launches May 4th on Consoles
Published: Tuesday, April 06, 2021Tagged: Gaming, ID@Xbox, Pre-order, Xbox Live, Xbox One, Xbox One X, Xbox Series X|S, Xbox Store

Indie developer D'Avekki Studios confirmed today that itscritically-acclaimed FMV game Dark Nights with Poe and Munro will release May 4th 2021 on Xbox One and PS4, with backwards compatibility for Xbox Series X|S and PS5. A release date for the Nintendo Switch version is still to be announced.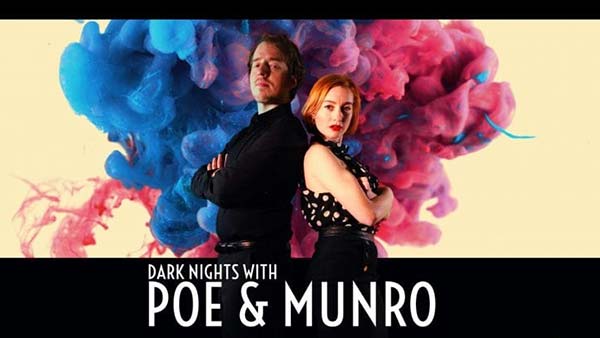 From the developers and creators of the award winning and Guinness World Record breaking "The Infectious Madness of Doctor Dekker" and "The Shapeshifting Detective", Dark Nights with Poe and Munro is a standalone spin-off set before the events of The Shapeshifting Detective, with different gameplay and all new stories!
Dark Nights with Poe and Munro tasks players with keeping small-town radio hosts John 'Poe' Pope and Ellis Munro together and alive through six TV-like episodes of supernatural mystery. A standalone prequel to 2018's The Shapeshifting Detective, Dark Nights with Poe and Munro is the third game from the studio but the first to be ported to consoles in-house. The game released on Steam in May 2020 to praise from players and reviewers alike and the studio hopes console players will take to it just as warmly.
"Releasing on consoles ourselves is a huge step for us as developers but also an exciting moment for this game which was really designed to be played on a TV screen," says D'Avekki Studios producer Lynda Cowles. "Unlike an interactive movie, which delivers a single story over a long time, we've created six different stories to give players more fun, encounter more mysteries, and discover more about Poe and Munro and the town of August. It's a box of chocolates in FMV form."
The game features almost five hours of full screen HD video and interactive hotspots which can be frozen to give unlimited time for making decisions. Player choices open up different paths through each mystery leading to two or more endings for each episode. Klemens Koehring and Leah Cunard reprise their roles as Poe and Munro respectively, and FMV fan favourite Aislinn De'Ath cameos as guesthouse owner Violet. There are also guest voiceovers from Justin McElroy (The Adventure Zone, My Brother My Brother and Me), Jesse Cox (Monster Prom), David Homb (1995's Phantasmagoria), and many more.
To keep up with all the latest Xbox One Series X|S and Xbox One news, release dates and updates, follow @XONEHQ on Twitter, YouTube, Instagram, Facebook, and Pinterest, download the free XBOX app for Android, and stay tuned for more info as it arrives.
Preorder: here
Official Site: https://poeandmunro.com/
Dark Nights with Poe and Munro Achievements