Carnivores: Dinosaur Hunt Is Available Now on Xbox One, PlayStation 4 and Nintendo Switch
Published: Wednesday, June 02, 2021Tagged: Gaming, ID@Xbox, Xbox Live, Xbox One, Xbox One X, Xbox Series X|S, Xbox Store

Digital Dreams Entertainment LLC, best known for its work on the wildly popular Mutant Football League, is offering players the experience of a lifetime in its first-person hunting simulator, Carnivores: Dinosaur Hunt. Travel to a world like Earth 65+ million years ago to planet FMM UV-32 with nothing but your wits, your trusty rifle, and your bag of hunting tricks to track and kill the largest, most dangerous creatures ever to exist -- DINOSAURS. This is the first time this popular series has appeared on Xbox One, PlayStation 4 and Nintendo Switch.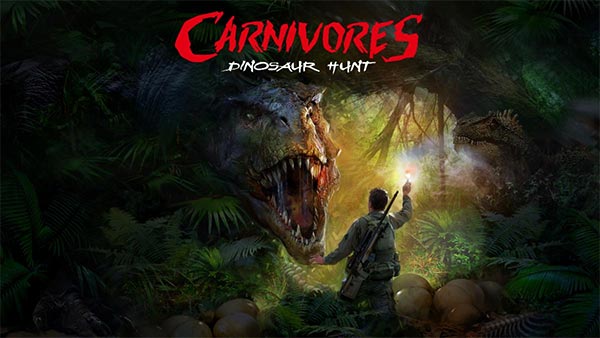 Carnivores: Dinosaur Hunt is a remastered version of the PC game, Carnivores: Dinosaur Hunter Reborn, that features a smoking-hot game engine that delivers improved graphics, advanced dinosaur behaviors, and seamless player progression. Hunters will visit the many lovely but potentially lethal environments including beaches, dense jungles, rocky plains, and deserts. Making full use of the environment will increase your odds of having a successful hunt. Players will follow trails and track animal footprints, stay aware of wind direction to hide their scent, use stealth tactics, or gain the high ground to get any kind of edge over your ten-ton prey.
Prior to the start of any hunt, players will need to make a plan (and a Last Will and Testament) while considering the types of dinosaurs they'll encounter. Among the most crucial items they'll need is the handheld M.I.S.T. (Mobile Interstellar Satellite Transponder) which includes a radar and GPS satellite positioning to make it easier to track their prey. The Cover Scent item, which masks the player's scent, can also be a lifesaver. Oh -- and don't forget a high caliber rifle, a sniper rifle, or a silent crossbow! What you choose to bring into the hunting arena, will determine whether you successfully make the shot or even live to tell the tale.
Once all of their arrangements have been made, players will track down a wide variety of dinosaur species, each with its own behavior patterns and intelligence level. While some dinosaurs will run away if spotted, others will attack if they feel threatened. There are also those extremely hungry dinosaurs who will just kill anything that moves, so be on the lookout for them and try not to be their next meal.
Do you have what it takes to take down the world's most dangerous creatures? If you think you do, then we can't think of a better way to celebrate International Dinosaur Day than by taking down an alpha predator like the Tyrannosaurus Rex with a single shot. No hunt would be complete without a collection. Players can display their greatest trophies and achievements in the Dinosaur trophy room. Players can also strive to be the very best via the game's Leaderboards showing the top hunters across several categories including most money earned, high scores, and max distance shots for every type of dinosaur.
Carnivores: Dinosaur Hunt is now available for download on Xbox One, PlayStation 4, and Nintendo Switch for $14.99.

To keep up with all the latest Xbox News, video game release dates and updates, follow @XONEHQ on Twitter, YouTube, Instagram, Facebook, and Pinterest, download the free XBOX app for Android, and stay tuned!
Carnivores: Dinosaur Hunt Achievements
Latest Carnivores: Dinosaur Hunt News & Rumors
Cretaceous Terror Pack, the first DLC pack for Carnivores: Dinosaur Hunt,launches alongside a substantial new features update for PC and console, and Carnivores: Dinosaur...

Digital Dreams has announced that a remastered version of Carnivores: Dinosaur Hunt, the fifth installment in the Carnivores series, is coming to Xbox One, PS4, and Nintendo...
Rate This Article
Average Score: 4.2




Votes: 5