Paranormal Horror 'Hermitage: Strange Case Files' announced for Xbox, PlayStation, Switch, and Steam
Published: Friday, July 09, 2021Tagged: Gaming, Xbox One, Xbox One X, Xbox Series X|S

Giiku Games has announced that their paranormal horror adventure 'Hermitage: Strange Case Files' is coming to Xbox, PlayStation, Nintendo Switch, and PC via Steam in 2021.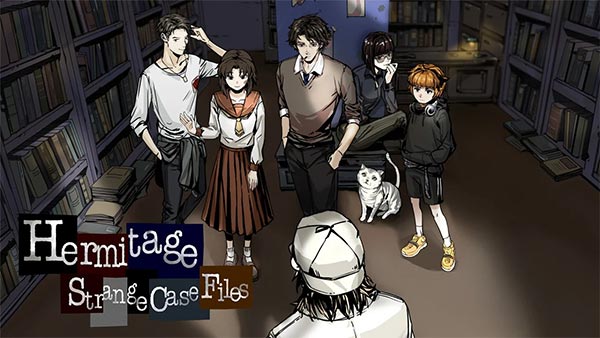 This gripping paranormal horror adventure revolves around Hermitage, the sinister bookstore that attracts most unusual customers – all of whom seem to be involved in mysterious cases bordering on the paranormal.
Having already made waves in China, acclaimed story-driven studio Arrowiz's latest is being fully localised for a western release across all major platforms, bringing the game's sinister brand of mystery and investigation to an entirely new audience.
The aforementioned 'Hermitage' is a quirky and altogether curious bookshop stood at the crossroads of a lonely junction, serving as a port of call for only the most eccentric of book worms. The store's manager - usually to be found casting a critical eye over Hermitage's patrons with a cigarette in his hand - is used to endearing oddities perusing his dusty shelves, but when one customer comes in searching for literature to solve the mystery behind some particularly lucid ritualistic dreams.
"Hermitage: Strange Case Files is what Chinese developer Arrowiz does best: an engaging mystery wrapped up in a multi-layered and immersive story where every line of dialogue is an important cog in the wheel that is the game's overarching narrative," says Rinalda Faraian, Product Manager at Giiku Games. "It's important then that we do the script justice, and we can't wait to bring this new localised version to gamers on console and PC this summer."
With Hermitage: Strange Case Files causing its protagonist to question the lines between fantasy and reality, players take on the role of said bookshop owner - a former anthropology professor who has strangely never been seen outside of Hermitage. With the help of a hacker genius on the run, a self-proclaimed detective and a short-tempered legal consultant, players will need to get to the bottom of a series of horrific incidents, taking on the supernatural horrors that lurk between the pages of Hermitage's weird and wonderful book collection.
Hermitage: Strange Case Files features:
A unique adventure with a multi-layered story and a visual novel style
Interviews with characters where choosing the approach that matches their personality serves up important leads
Clues discovered through TV news, online forums, phone messages and emails
Analyze characters and events using an interactive pinboard
Investigate character backstories to discover secrets
Match your intel with your suspicions to uncover the truth
Take your adventure on a new path by unlocking various storylines with your choices
Hermitage: Strange Case Files will be available on console and PC.
For future Xbox news & rumors and information for Hermitage: Strange Case Files, follow @XONEHQ on Twitter, like us on Facebook, subscribe to us on YouTube, install the free Xbox app for android, and stay tuned!
Latest Hermitage: Strange Case Files News & Rumors
Giiku Games (@giikugames) announced today that their paranormal horror adventure Hermitage: Strange Case Files from acclaimed developer Arrowiz (@ArrowizStudios) launches...
Rate This Article
Average Score: 4




Votes: 2