The 5 Best eSports Games for Xbox
Published: Tuesday, July 27, 2021Tagged: eSports

The world of esports has been growing exponentially over the years, with more and more players, teams and games being added almost on a monthly basis. Considering the popularity of esports, there have obviously been some standout games.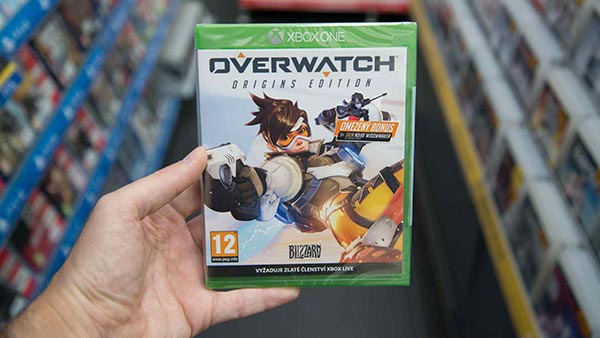 Many people associate all types of esports with PC gaming, but forget that it is also huge on consoles, like Xbox. Here are the best eSports games you can play on your Xbox right now.
Overwatch
A massively popular game since it was released, Overwarch has been an esports staple for a few years now – right up there with the likes of Fornite and Dota. A game based on skill and teamwork, it is no surprise that it made its way to the eports stage.
The game is simple. It is team-based, with each player controlling a character that has their own unique set of skills and abilities, competing against each other in a variety of modes on a variety of maps.
The game is known for its non-stop action, with it looking almost chaotic when all the players meet and fight. It is a tricky game to master, as it isn't just moving, aiming and shooting. But once you have the hang of it, it's incredibly addictive.
Rocket League
Rocket League is another game that has taken the world of esports by storm, over the last couple of years. Almost every esports organisation has a Rocket League team, and there is a tournament in one form or another almost all the time.
Another simple game, teams control cars as you play a vehicle version of soccer. You can gather boosts for extra speed, wall ride, jump, spin and flip – all with the aim of getting the overly sized ball into the net.
Rocket League is one of those games where it is almost so simple that winning comes down to player skill and not much luck. You can't accidentally win a game of Rocket League, and this high level of skill is very attractive to players who want to test their capabilities against others.
Fortnite
Probably the most popular battle royale game on the planet, Fortnite is still going strong, especially in the esports community. Rising to fame a few years back, when the biggest streamers such as Ninja, TFue, and NickMercs were regulars, the game is still as popular as ever – even in competition with games like Warzone.
The third-person shooter not only allows you to pick up weapons and kill enemies, but it allows you to build for protection, too. The game receives constant updates, fresh material, and keeps up with player demands and needs.
This is what keeps the game so popular. Not forgetting, it is also the go-to game for young players looking to emulate the success of their favorite streamers.
Rainbow 6 Siege
A game that is a mix between Call of Duty and Counter-Strike, Rainbow 6 Siege is a game that definitely falls into the more skilled category. It requires a ton of teamwork and communication, as well as serious map knowledge.
The high skill level is also what appeals to players, as it is another game where there is very little luck. You aren't running round a map shooting whatever you see, and then respawning when you die – you have one life per game and you must make it count.
The game requires the player to be slow and calculated, and is more comparable to a mode such as Search and Destroy in COD, or a game of Counter-Strike like mentioned before. You need to know your surroundings, do proper recon, choose your shots, and play smart.
Call of Duty
Speaking of Call of Duty, the game has always had an esports presence. But with the explosion of the esports scene, and more streamers playing the game, the Call of Duty esports world has grown too.
The multiplayer side of the franchise has a number of teams that compete in Call of Duty tournaments on a regular basis. And we also can't ignore the growth that their battle royale, Warzone, has seen.
It has been downloaded by over 100 million people, with millions playing at any one time. There are Warzone tournaments being held worldwide on a regular basis, with prize money getting bigger and bigger each month.
It is also the game that the majority of the biggest streamers are currently playing. The same ones who were making a name for themselves on Fortnite, are now on Warzone, bringing even more attention to the game.
As you can tell, there are more than enough options for Xbox players when it comes to esports games. And more and more are growing a following that is putting them in line to possibly be the next big thing in esports.
This is also not a complete list – these are just the top 5. Tekken and Smite also have substantial esports followings and have a very large player base. There are so many games to choose from that you are going to find it hard to pick just one. So play them all, you won't regret it.
Get ready for the biggest indie game event of the year: INDIE Live Expo Winter 2023. This online showcase will feature hundreds of indie games from Japan and around the...

The Xbox One, Microsoft's flagship gaming console, has been home to a diverse array of exclusive titles that have captivated gamers around the world. From epic adventures to...

From October 27th to 31st, you can support the mental health of the games industry by joining the Press Pause charity fundraiser. This event is organized by Safe In Our World...