UK's Xbox magazine 360 Gamer rebranded as ONE Gamer
Published: Wednesday, July 10, 2013Tagged: Gaming, Xbox One

UK's most prolific Xbox magazine, 360 Gamer, being rebranded ONE Gamer with its historic 130th issue, arriving at retail on 17 July 2013.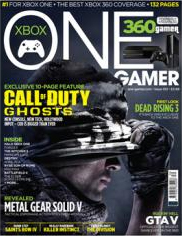 The rebranding reflects ONE Gamer's move to accommodate Microsoft's newly revealed next-generation console, the Xbox One, due for release later this year. "Just as 360 Gamer has led the way with 100% independent coverage of the Xbox 360 for almost eight years, ONE Gamer will be at the forefront of the Xbox One revolution," said James Artaius, Joint Editor.

ONE Gamer will deliver the latest reviews, previews, news, and in-depth features and opinion pieces about the Xbox One. At the same time, it will continue to provide the same authoritative coverage of Xbox 360 gaming
that the brand is known for.

"With 129 issues, we've published more magazines dedicated to the Xbox 360 than anyone on the market," added Artaius. "ONE Gamer will be the premier destination for all your information on the new console, but we're not abandoning the 360. We'll be covering both platforms side by side so, whichever Xbox is sat under your TV, ONE Gamer is the only publication you'll need."

Since October 2005, 360 Gamer has provided cutting-edge content at a market-best price. "ONE Gamer is building on the success of the 360 Gamer brand and taking it to the next level," said Ian Collen, Joint Editor. "At just £3.99 we will continue to be the lowest priced Xbox title on the shelves, and our readers will benefit from even more hands-on playtests, exclusive features and probing insights from a team that has over 200 years of combined videogame experience."

Official Site: www.360-gamer.com
The next free Daily Rides season for Lonely Mountains: Downhill is dropping today on Xbox One, PlayStation 4, Nintendo Switch and PC via Steam.Players who take up the...

BAFTA-nominated action adventure Eastward from Chucklefish Games is now available on Xbox One, Xbox Series X|S, Xbox Game Pass and PC Game Pass. Journey through a society...

A record number of games industry partners united to raise over £660,000 for gamers' charity SpecialEffect through their One Special Day campaign in October.The charity,...
Average Score: 4




Votes: 2